I recently became the owner of a really good blender (read more about what I got HERE) and owning a good blender has seriously been life-changing. Really! My previous blender was 13+ years old and while it was a nice brand and worked fairly well...my smoothies were often a bit...not-so-smooth. They ended up being a little icy and while they were ok, they weren't spectacular. But now that I have an awesome blender, I am a smoothie making junkie! I probably make a smoothie at least 5 times every week! My children love them and so does my husband! And my most recent endeavor is to experiment more with Green Smoothies. Green smoothies can look a little bit scary, but they can taste incredible! And they are also very healthy for you! This Tropical Green Smoothie tastes light and fresh and like you should be sitting by a beach! It is one of my favorites!
This is a perfect "beginner" green smoothie recipe because it does not taste like spinach or lettuce or vegetables in any way. The sweetness of the fruits and delicious tropical flavors are what make this smoothie delicious, healthy and a big favorite around our house! But this is a great way to ensure my children eat their green vegetables! They both know that there is spinach in this recipe, I don't try to hide the vegetables from them, but spinach becomes very kid-friendly when it is in smoothie form!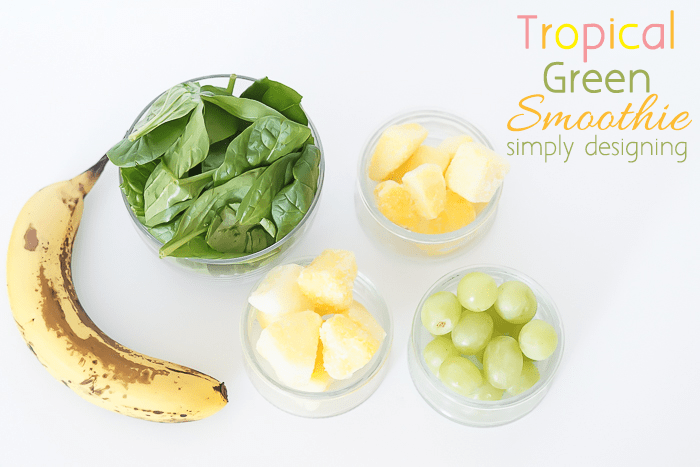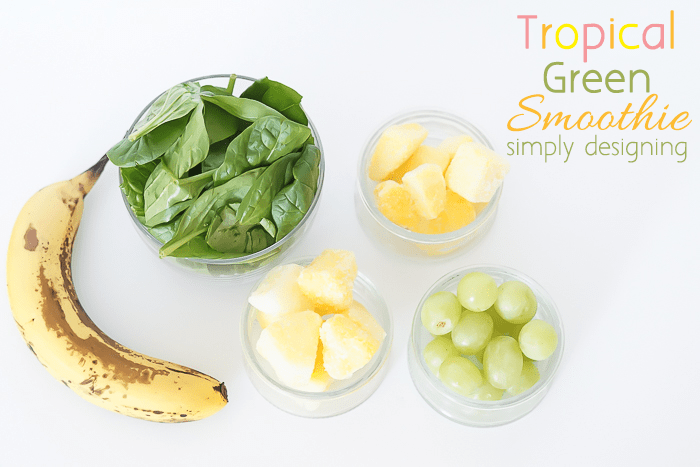 Tropical Green Smoothie
Ingredients:
½ cup water
½ cup green grapes
½ cup pineapple (fresh or frozen)
½ cup mango (fresh or frozen)
1 banana (the riper the better)
2 cups spinach
ice cubes as needed
Directions:
Place ingredients into your blender in the order listed. If using frozen fruit, you might not need to add ice. Add ice according to personal preference, I like my smoothies nice and thick and so I tend to add quite a bit of ice.
Blend for approximately 1 minute or until your smoothie is blended and smooth.
Enjoy!
A few hints, I like to use very ripe bananas for my smoothies. The riper the banana the sweeter the smoothie. And this is a great way to eliminate adding additional sugar to a smoothie by choosing to use over-ripe bananas in your smoothie!
You can use fresh or frozen fruit for this recipe. If you use fresh fruit you may need to add a bit more ice to your smoothie.
When measuring spinach, don't pack your cups full. Just loosely fill your cups with spinach and that will be perfect. You can even just guess and add a couple of handfuls of spinach like I normally do!
Smoothies are so flexible, so you can use what you have on hand, but this is a really tasty combination that everyone in my family loves and I am sure you will too!
If you want more smoothie recipes, you might also enjoy my Strawberry Pineapple Banana Smoothie or my Banana Smoothie Recipe.
Enjoy!
This post was originally created for Mohawk's Creative Home Blog. But all photos, text, ideas and post were created by Simply Designing.
You might also enjoy these posts: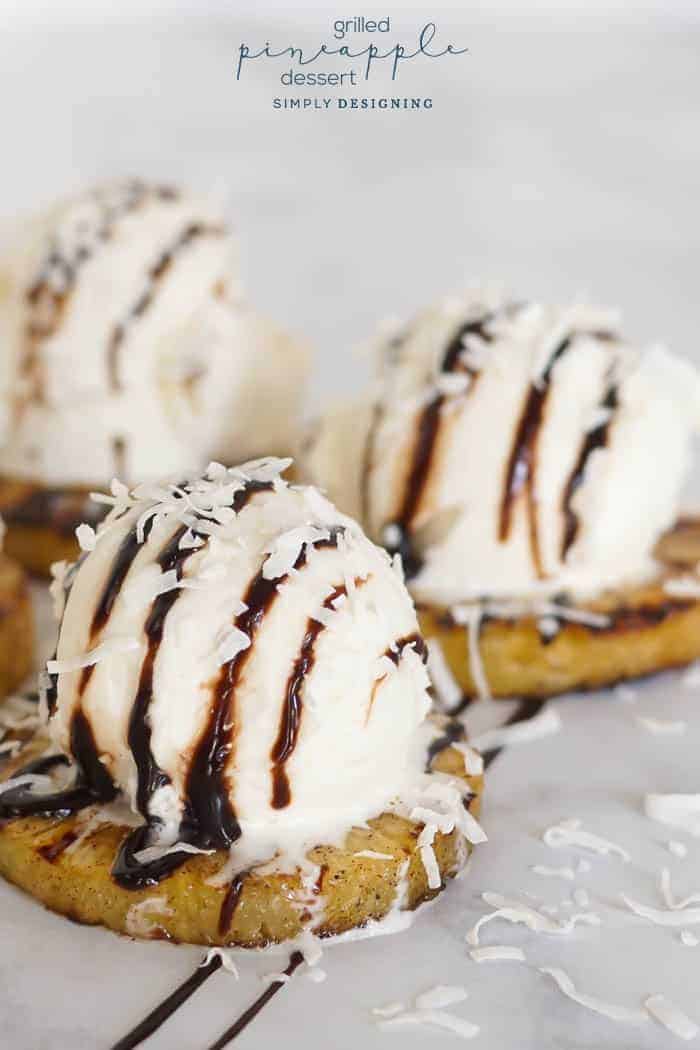 Grilled Pineapple Slices + Grilled Pineapple Dessert Recipe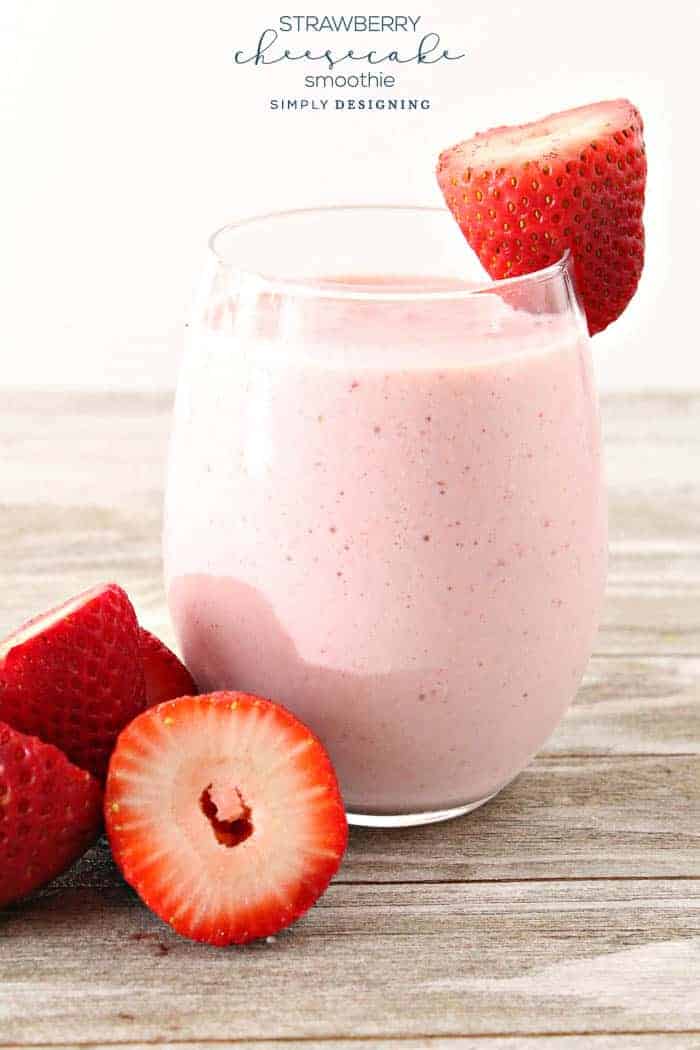 Strawberry Cheesecake Smoothie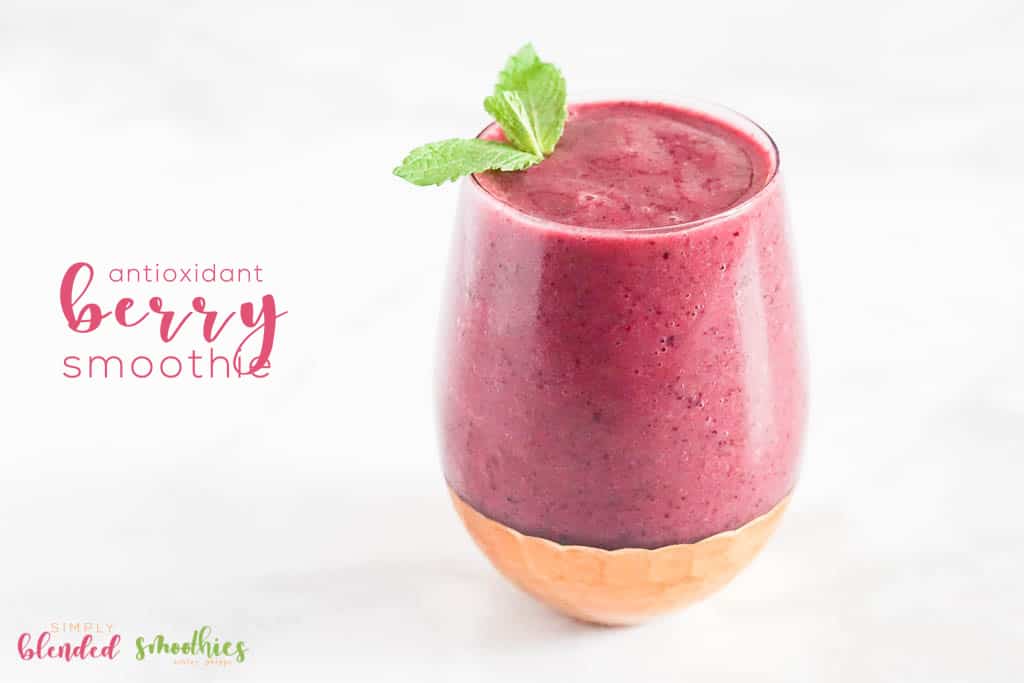 Antioxidant Berry Smoothie Recipe