While we were in Florida a few weeks ago, we had the opportunity to visit Disney's Animal Kingdom Park!  So today I am really excited to share everything we did there and how we saw almost everything in Animal Kingdom in LESS then one day!  We actually hit two Disney parks in one day if you can believe it!  But we loved our time in Animal Kingdom!  It was such a fun park for the whole family and I really enjoyed being able to take my children there!  So today I am sharing my Top 9 things to do in Animal Kingdom!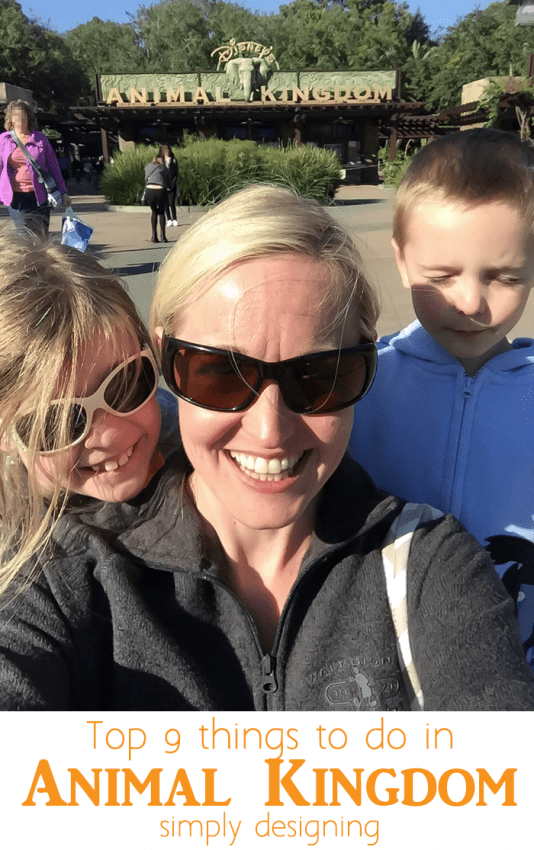 A big thanks goes out to Disney for help making this park visit possible!  But don't worry, all opinions,  information and photos are 100% mine!
My children are 8 and 4 and they were honestly the perfect ages for Animal Kingdom!  My children could ride on nearly every ride here and Animal Kingdom has some amazing shows and experiences too!
Here are a few general Tips:
Buy Tickets Ahead of Time
Skip the crowds before you even get into the park and snag those tickets ahead of time!  This one tip can save you an hour of time in line or more depending on the time of year.  We had actually spent the weekend prior in Disney World so I called Disney and was able to purchase my extra tickets ahead of time and they put them onto our wrist bands.  So when we got to the park, we were able scan our bands and walk right through!  This saved us tons of time and was incredibly convenient!
Plan Your Day
One of the biggest mistakes that people make is to not take the time to plan their day.  Take a few minutes the evening before you go to actually plan out a rough itinerary for the day.  This will make your day run smoother and ensure you hit all the rides and shows you really want to hit!
Also, get your family involved in the planning, or at least prepare then that there will be a plan to follow!  When you walk into a park, it is easy to become overwhelmed and want to do everything right now, in the order you see it.  But this isn't always the best way to do it.  I talked to my kids before hand about how I had a plan to hit the best, most fun things in Animal Kingdom and my kids were instantly on board.
Because my kids knew I had a plan, they were great at following along because they knew they would have lots of time to do lots of fun things this way!  And because this was not our first park we visited this week, we were into a really good routine!
Show up when the park opens, or a few minutes before.  Crowds are always lightest in the first few morning hours at Disney parks so take advantage of that time to get through rides and experiences quickly!
Height and Age Limits
Most rides at Animal Kingdom do not have a height restriction, but a few do.  So check those ahead of time.  Sometimes at Disney Parks there are age restrictions to riding alone.  But my 8 year old was old enough to ride alone which helped since it was just myself with the two kids that day.  Also we found a few things to be just a tad scary for younger children, so just be careful if your children scare easily.
Prepare Your Children for a Busy Day
At parks like this there is often a lot of hurry up and wait.  My children became used to walking fast to get someplace and then wait in line for the ride.  So talk to your children ahead of time to let them know you will be walking a lot, and waiting a lot.
Comfortable Clothes and Shoes
Orlando can be hot during the day and cold once the sun sets.  So besides wearing comfortable shoes, bring a sweatshirt or jacket.  And if you plan on getting wet, bring a change of clothing and shoes and/or wear a bathing suit.  (There is one wet ride at Animal Kingdom but it was closed when we went.)
Prepare Your Kids for the Possibility of Scary
Sometimes rides or shows become a bit scary for younger children, and you might not always know ahead of time.  My son and daughter are a little worried about most 3-D and dark rides.  So I always prepared them.  Before ANY ride I tell them, if it gets scary, just close your eyes.  And if it is a 3-D experience, I told them that if it got scary to take their glasses off.  This takes ALL the scary out of 3-D when your glasses aren't on.  Preparing your children with a plan for if it gets scary empowers them!  My children were excited to go on any ride and weren't worried about whether or not it was scary because they knew how to handle it and they knew ways to take the scary out of any ride.  So EMPOWER your children by preparing them!
Parking
Animal Kingdom has great parking!  We parked and rode a tram right to the entrance of the park!  What a wonderful way to start the day!
So today I am spilling it all!  Here are our Top 9 things to do in Animal Kingdom:
Here is What We Did:
So you want to know our plan!?  Good news!  I am sharing it!  I am sharing it so that you have a guide to make your own trip itinerary by, however please modify this to fit your family!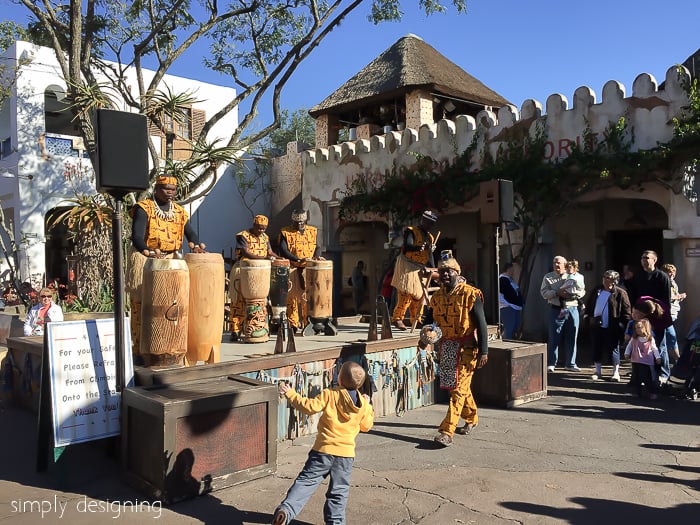 Africa
We began our day in Africa!  One of the most popular rides is here so it is a good place to start your day!  I loved the live music, beautiful architecture and fun atmosphere Africa had!  It was one of our favorite areas.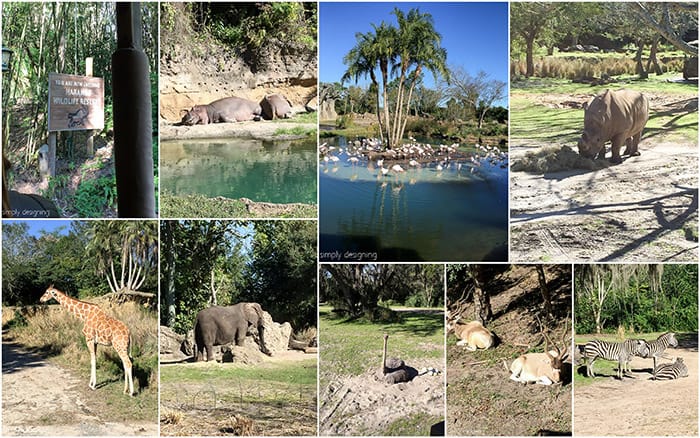 Kilimanjaro Safaris
This is a fun safari ride through a beautiful African savanna!  We saw some of the most beautiful animals up close and personal.  We saw beautiful giraffes, elephants, rhinos, hippos, ostrich,  zebras and many other animals!  This is a must-do but lines can get long so I suggest going here first!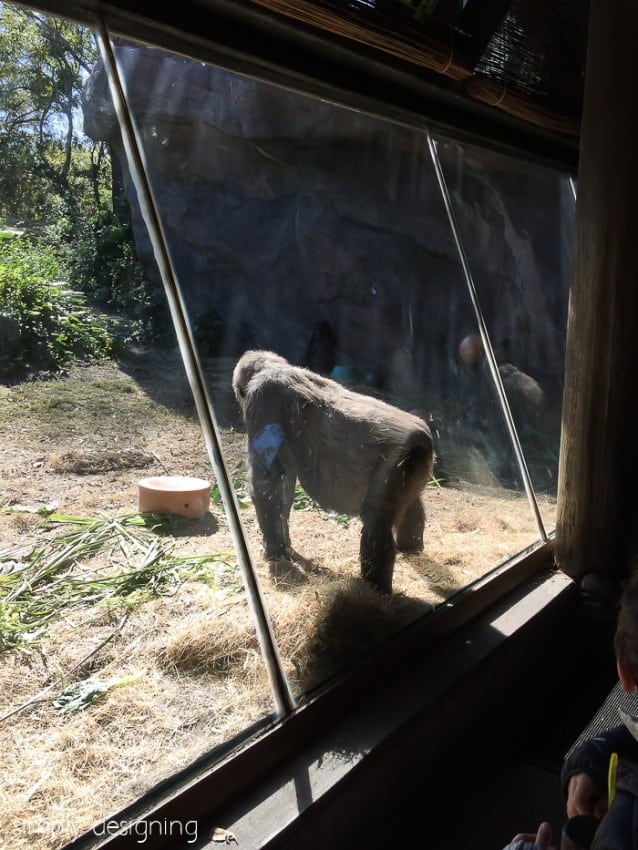 Pangani Forest Exploration Trail
This is a great walking trail to see more fun animals up close and is located near the safari!  We saw really neat gorillas, more hippos and really beautiful exotic birds!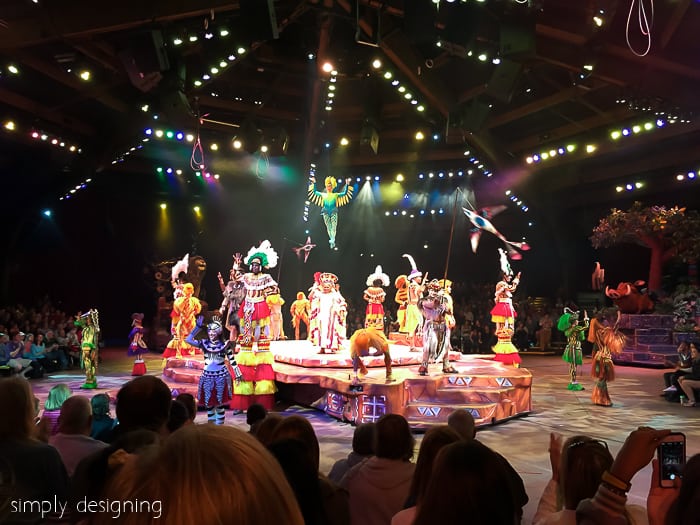 Festival of the Lion King
This was amazing!  This is a show you definitely want to see!  Be sure to find out show times when you enter the park so that you can plan your day around seeing this show because you don't want to miss it!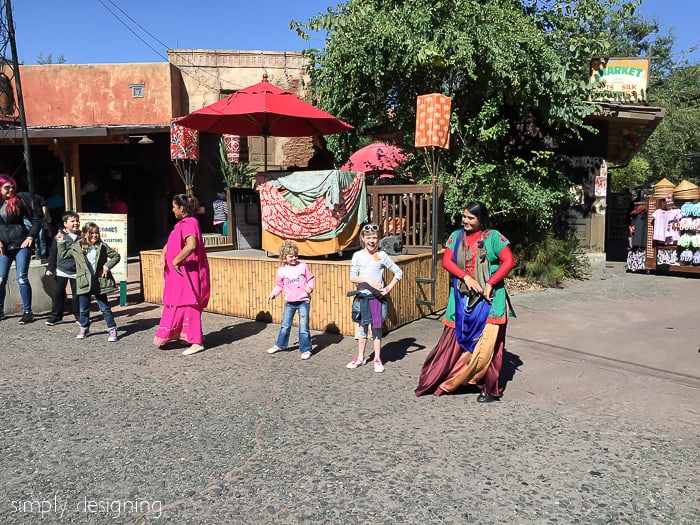 Asia
The beautiful atmosphere in Asia drew us right in.  My daughter danced in the street and we saw some beautiful animals!  But the ride hidden back here is a huge thriller!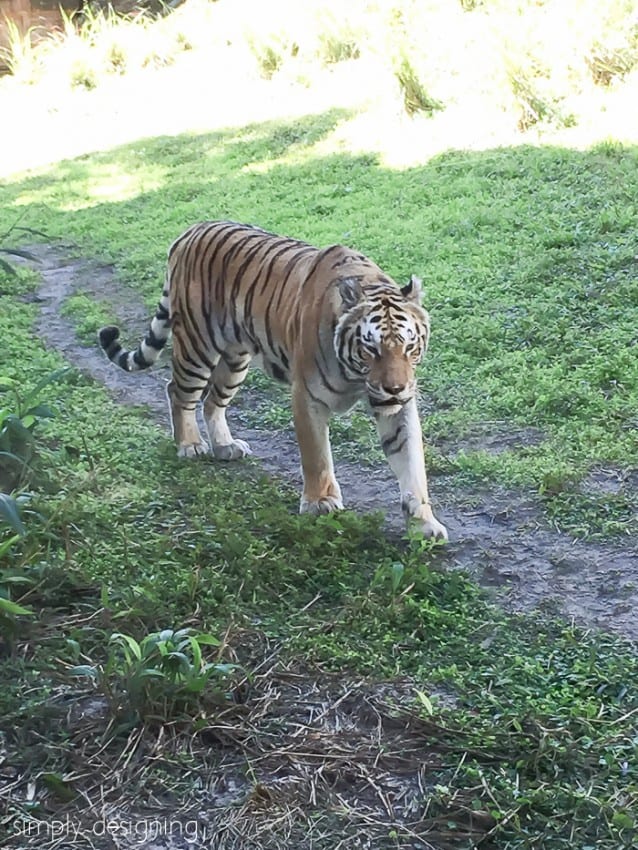 Maharajah Jungle Trek
Wow!  You seriously can't miss this!  This is a walking path that leads you to see tigers, bats and Komodo dragons.  But the Tigers were our absolute favorite!  There was one tiger who loved to be close to the glass wall and just paced back and forth.  The workers said that this particular tiger just enjoyed pacing.  It was so fun to see a tiger so active!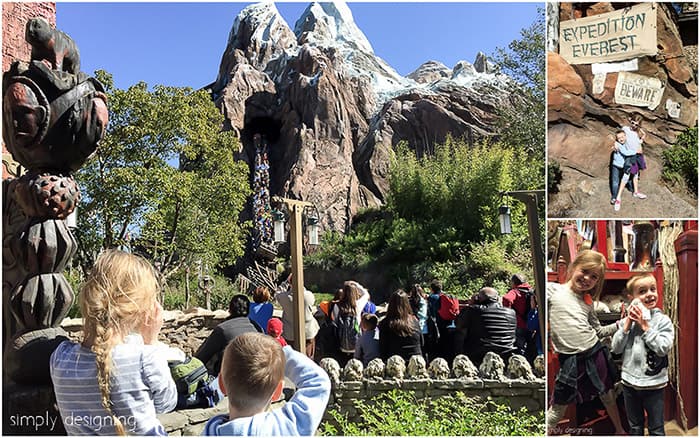 Expedition Everest
You must be 44″ tall to ride this ride and my son is just barely over that height.  It looked scary but both of my children begged to go on it.  I was shocked.  Because it was just me and my two children, my 8 year old daughter rode by herself (well she ended up riding with another single rider) and I rode with my son.  This ride was thrilling to say the least!  It is high and fast and goes backwards!  Yikes!  Backwards!  And there are a couple scary sounds and sites that could be frightening to young children…after all a Yeti is trying to catch you!
I will be honest, I was nervous the entire time that my eight year old would be too scared, especially sitting with a stranger even through she was in the row just in front of me.  But the young teenager who rode next to her had ridden before and made a great riding companion for her!  And she was hardly scared at all!  My 4 year old son was a little worried during the ride but he was a champ and begged to ride it again after we were done.  Actually they both begged to ride it again!
This was a scary roller coaster for sure, but also a lot of fun!  You don't want to miss this if you love an adventurous roller coaster!  This was probably the most thrilling roller coaster we rode all week.  It was really fun!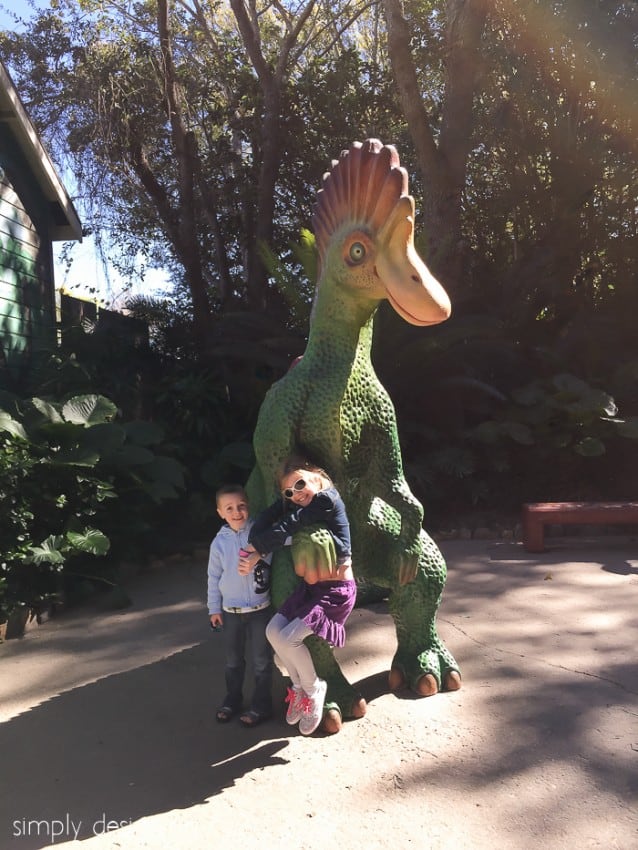 DinoLand U.S.A.
There are several fun rides and exhibits in this area and it is perfect for children who love dinosaurs!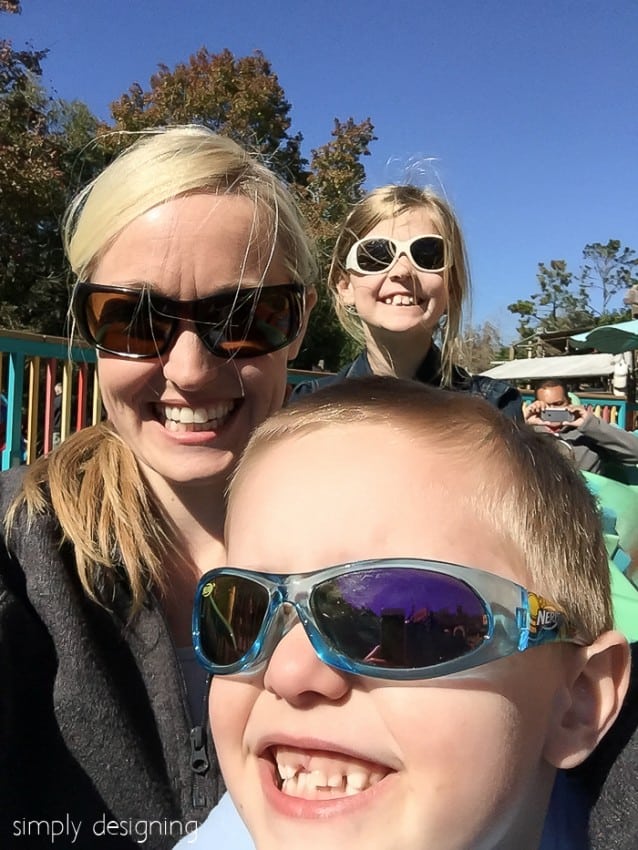 TriceraTop Spin
This is a fun kids ride and perfect for younger children.  Much more calm then Expedition Everest, but still a fun ride that my children loved!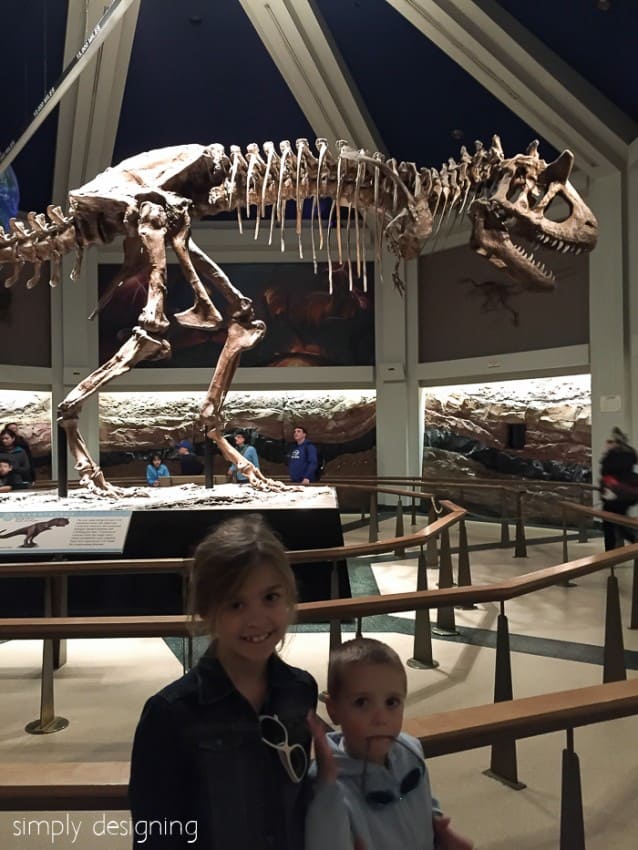 DINOSAUR
This ride was a little scary for my kiddos as we went into prehistoric times to try to save a dinosaur from extinction.  Of course there were dinosaurs who were nice, and some that weren't.  It was a neat experience, but just prepare your young children for a potentially worrisome ride.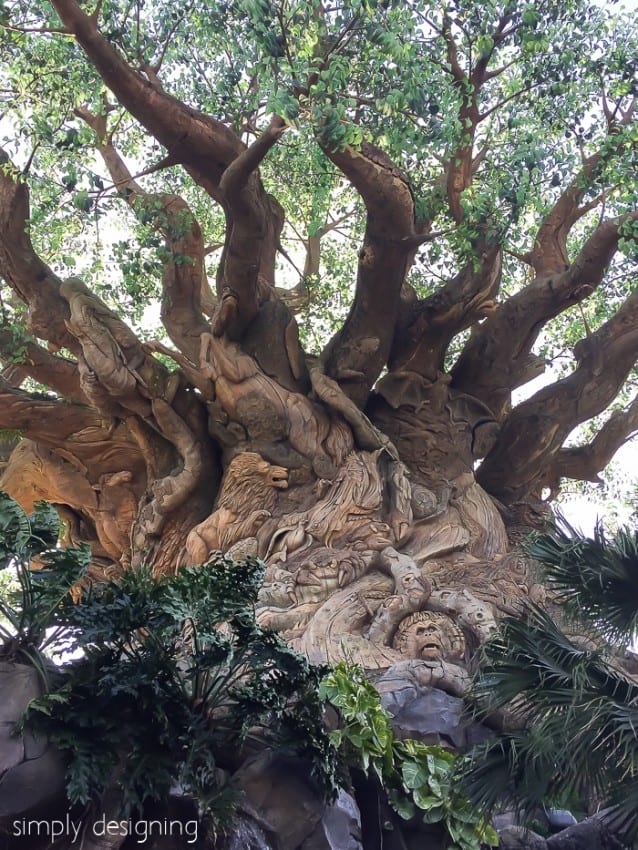 Discovery Island
You can't miss this Island or exploring around the Tree of Life.  This is such a beautiful and intricately carved tree.  It is amazingly impressive and something you don't want to miss!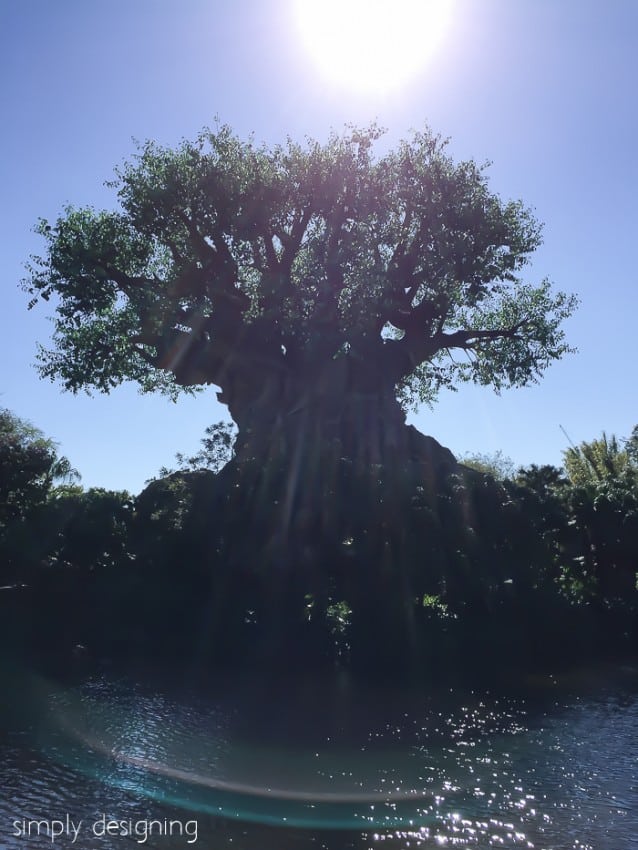 Discovery Island Trails
It's fun to walk around and see lots of animals and view the Tree of Life from different angles!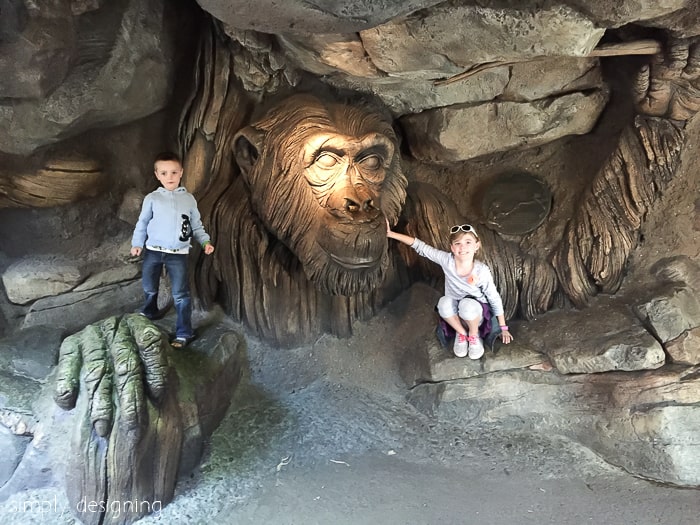 It's Tough to be a Bug
This was a fun 3-D film based on A Bug's Life Movie.  My children like the movie and so I thought they would love to see this!  It was fun and really creative.  It was even super silly in some parts too and had us all laughing!  But there were a couple of moments that worried my children.  Luckily they knew to just take off their 3-D glasses and the show was instantly not scary!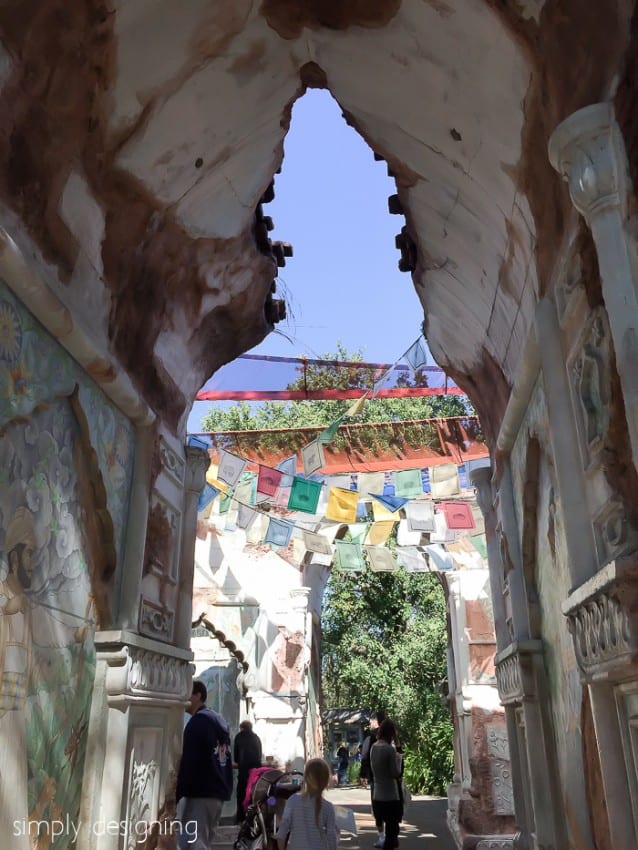 Other Fun Things To Do
If you have the time, near the entrance of the park, children can become a Wilderness Explorer.  They give children special challenges to earn badges throughout the park.
See the other shows if you are able to fit them into your day as well.  And Rafiki's Planet looks like a fun area to go to especially if you have kids who love to pet animals!  (mine do not)
Just remember when taking a trip like this that you are there to have fun!  If your kids aren't up for such a big day, that's ok.  It is more important to create good memories then hitting every single thing.  This plan is what we did and what worked for us, but please take the time to modify the plan to fit your own family!  And be flexible enough to realize you may have to adjust as you go especially with young kiddos.
We did everything on our list in just over half a day.  We only spent about a half a day there because we wanted to take advantage of our Park Hopper pass and see a little bit of Disney's Hollywood Studios as well!  So stay tuned to hear about our time there soon too!
And be sure to check out Disney's Animal Kingdom Park's website to help plan your trip, check out park hours and see more information about rides and restrictions HERE.