Today I am super excited to share my Metallic Gold Honeycomb Dresser with you!  Woot woot!  As a HomeRight Ambassodor, I was challenged to re-invent the IKEA Tarva dresser using one of HomeRight's tools.  (Thanks HomeRight for making this post possible, all opinions and ideas are mine.)  I won't lie, this dresser gave me quite the challenge!  I wanted something beautiful, and different.  Something stunning and striking but that would still look great in my house.  And after much pondering and a whole lot of nail gunning and painting, I came up with this beauty!  And I have to admit, I am completely in love with my IKEA Tarva Hack!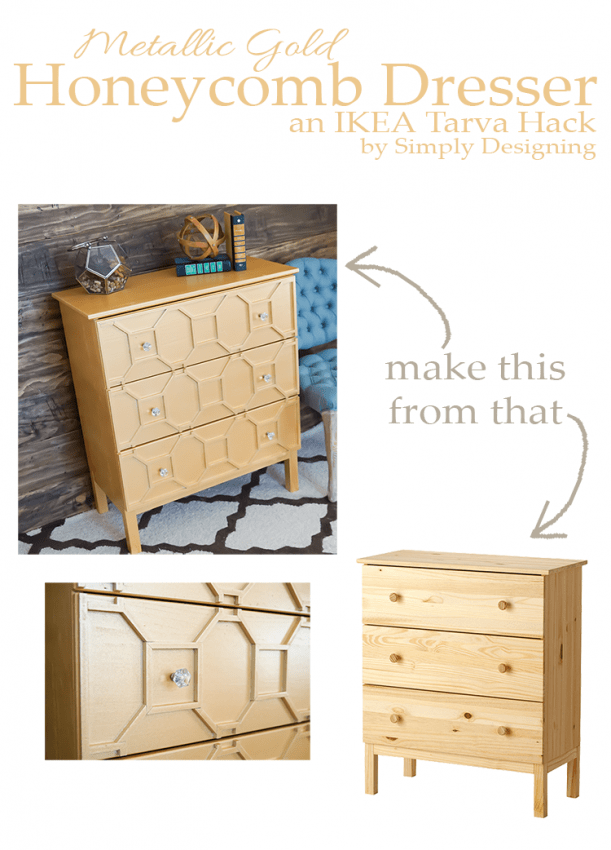 I love the fresh and modern feel that this dresser has!  But it feels a little vintage too, since the style is definitely a throw back to the art deco style of the 20's.  It is the perfect gold too…not too bright, not too yellow…just a beautiful gold color!  And the octagon shapes just make my heart flutter!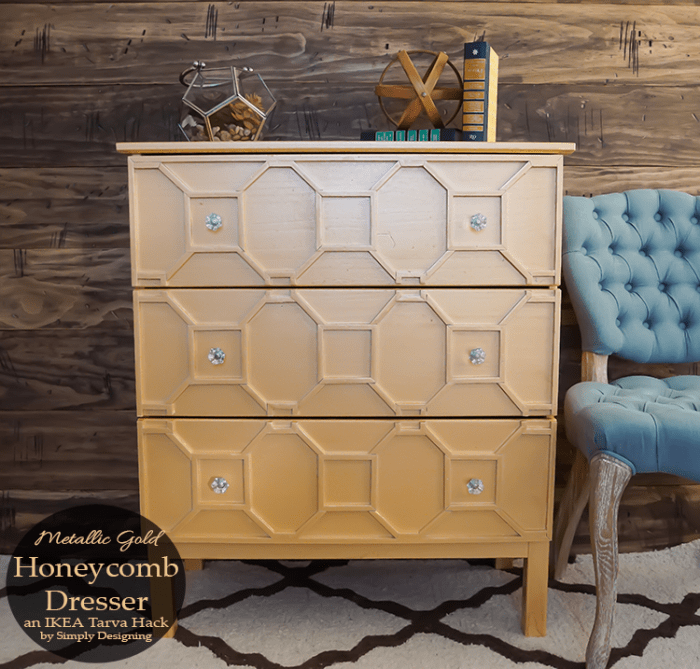 So here is what I was sent to work with: the IKEA Tarva Dresser.  It is a decent piece of furniture, but quite plain.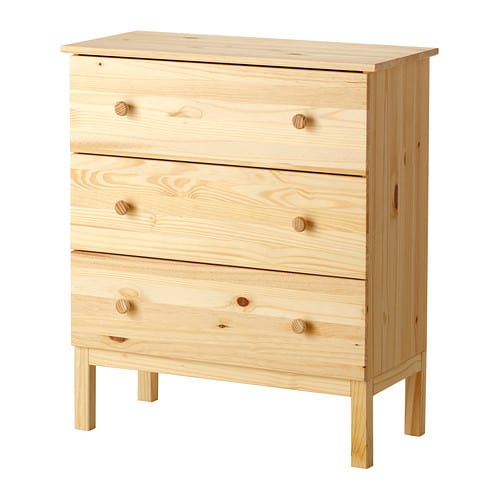 And here is my inspiration.  The Grace Dresser from Joss and Main.  I found this dresser a few weeks ago and it was already sold out.  And while I think it is lovely, I am sure the price tag was mighty steep for my budget and even though I normally love silver, I don't love silver on this particular piece of furniture.  But I knew with a little elbow grease I could turn the IKEA Tarva dresser into something similar!
To make this Metallic Gold Honeycomb Dresser you will need:
IKEA Tarva Dresser
3/8″ square molding
Ryobi AirStrike
Brad Nails
Wood Glue
Compound Miter Saw
1 qt. Sherwin Williams Oyster Bar Paint, Matte Finish
1 qt. Sherwin Williams Faux Impressions Metallic Paint in Gold
Sand paper
Tack cloth
New Knobs if desired (mine are clear acrylic faceted knobs from Target)
The first thing I did was to assemble my IKEA dresser!  Actually my sweet husband helped me assemble it!
After the dresser was assembled, I began creating my trim for the front of it!  I used wood glue and my nail gun to attach square molding around the outside edges of my drawer fronts.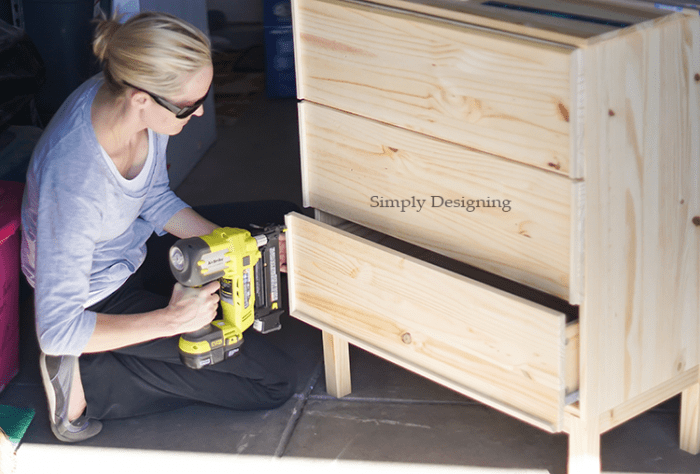 Then I measured, cut and attached three 3″ x 3″ squares centered on each drawer front.  I then added smaller squares overlapping the drawers as well.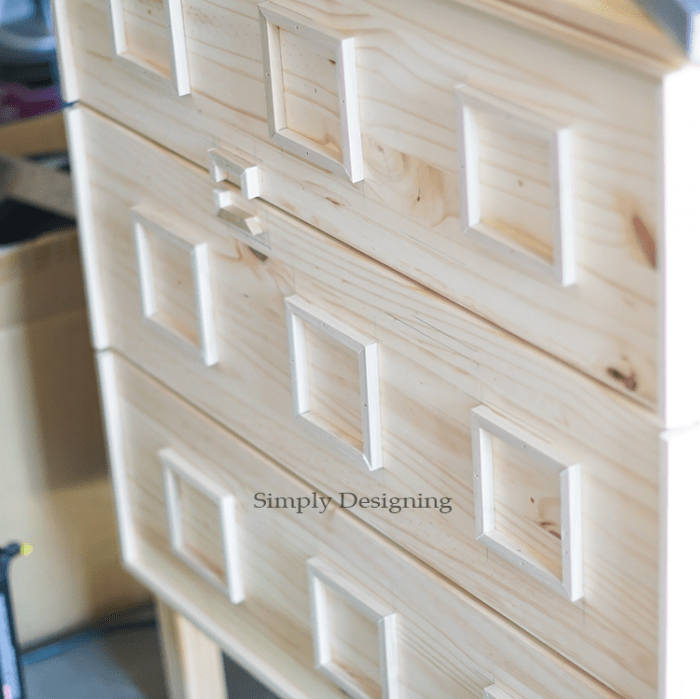 Then I used diagonal pieces of trim to finish creating the octagonal shape.
I then puttied and sanded my dresser and wiped it clean.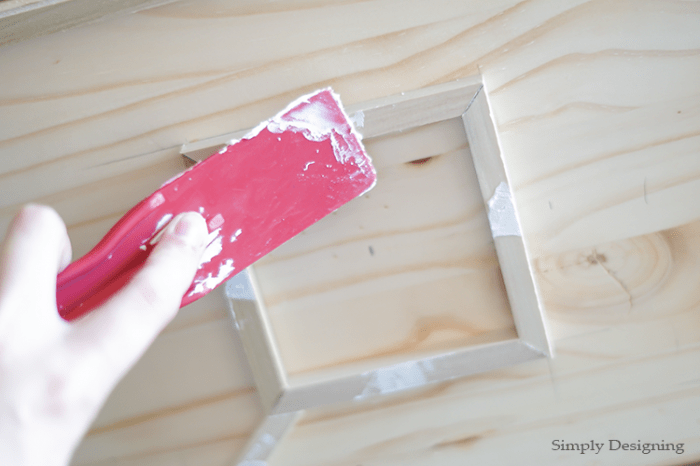 I will admit, it was a bit tedious and time consuming to get all of the trim pieces to fit exactly right.  But it was well worth the work!
I then grabbed my FinishMax Pro and sprayed my whole dresser with the oyster bar paint.  I gave the dresser two good coats and let it dry completely in between coats.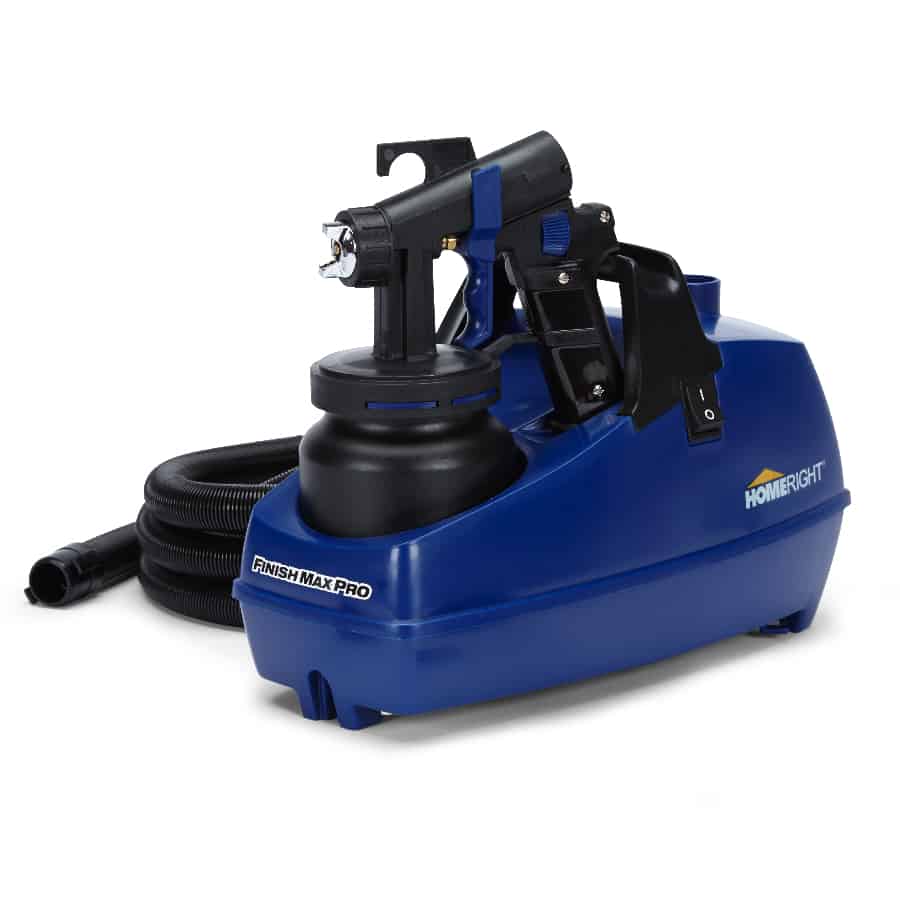 Using the FinishMax Pro saved me a lot of time.  And I just love spraying my furniture!  It gives it such a smooth and beautiful finish!  My paint sprayer has gotten a LOT of use and looks like a Jackson Pollock painting…splattered with paint from overspray.  But it is a workhorse and gets the job done well every single time!  If you need a paint sprayer (and who doesn't!?) this is definitely my favorite one!
Then I sprayed my dresser using the Gold paint.  I ended up using three coats of this paint, and I was worried the entire time.  While I could tell that this paint was shimmery, it did not look gold.  In fact, when I sprayed it on, it looked peach.  I am not going to lie, each coat made it worse and I went to bed nearly in tears that evening.
But overnight, the magic happened!  Once my dresser had three full coats of gold paint and was allowed to sit over night, it turned into the most beautiful gold finish ever!  Whew!  My panic subsided and I was finally able to enjoy how beautiful this dresser turned out!
I added new knobs to the dresser for a little extra bling!  (I thought these faux crystal knobs would be perfect for this fun, art deco style dresser!)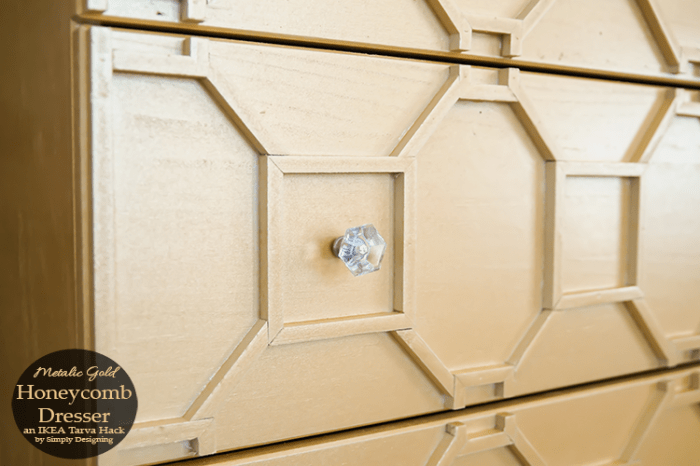 I love how it has such a modern feel to it yet it is definitely a throw back to the art deco style seen in the 20's.  
It has a modern and vintage feel to it, all at the same time!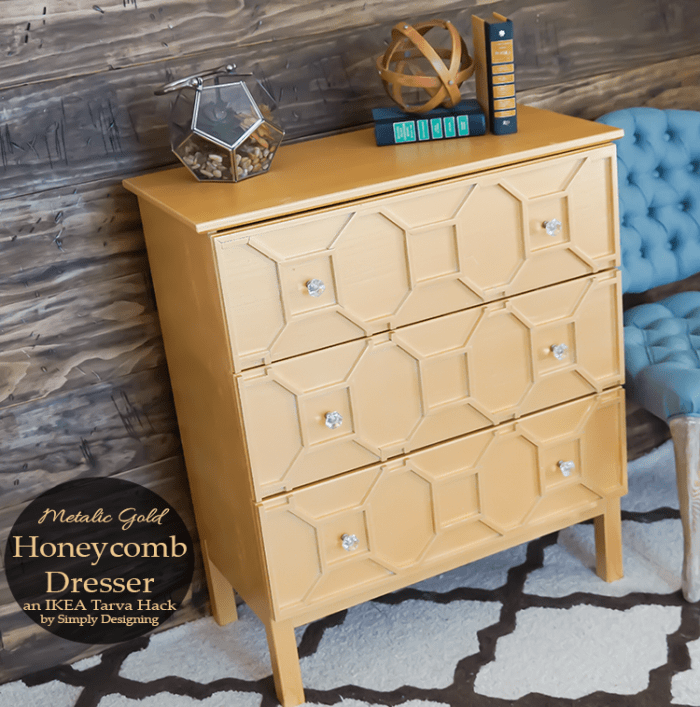 I haven't completely decided where it will go yet, but I think it may have a home in my piano room, holding my piano books that so desperately need a home.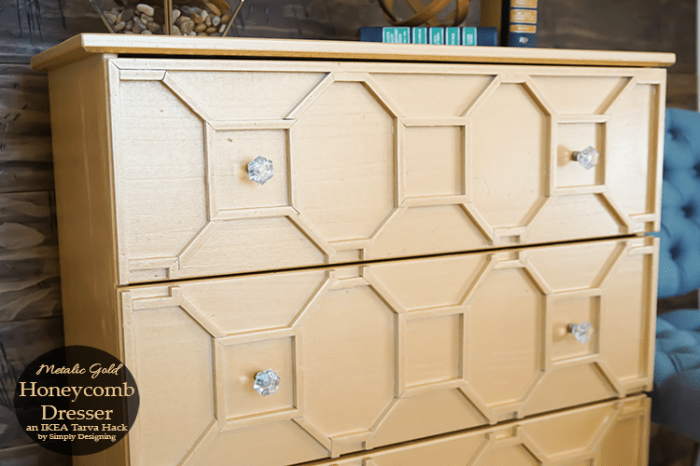 Either way, this dresser is a beauty and I am so glad that it turned out just as beautiful as I had envisioned it!
One last photo just for good measure…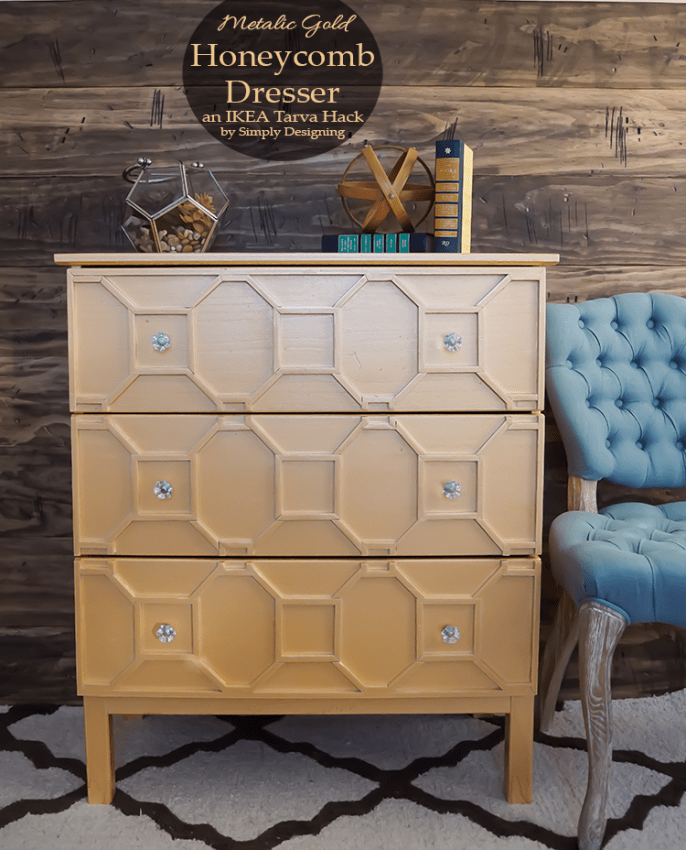 And now you can create your own Modern Metallic Dresser by entering to win your own HomeRight FinishMax Pro paint sprayer!!!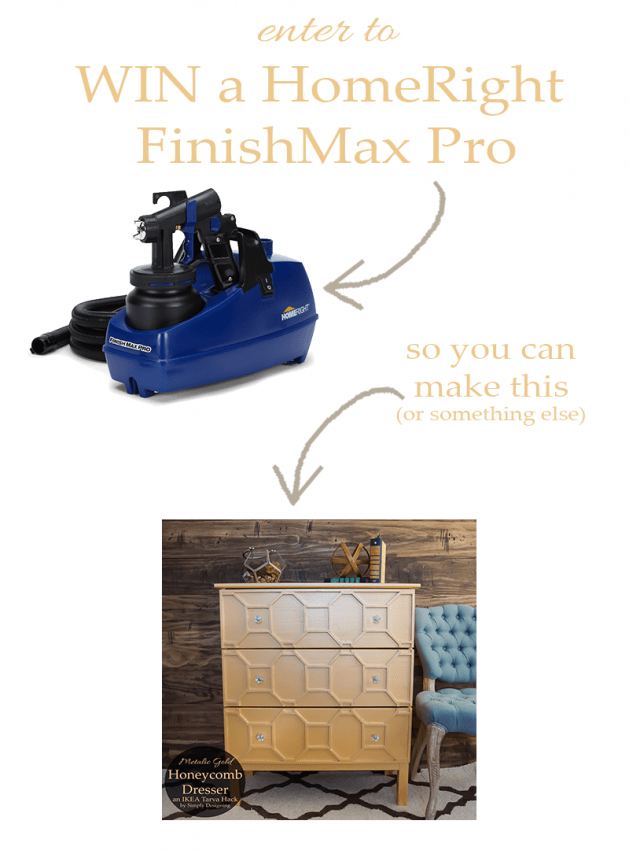 Wait until the Rafflecopter fully loads and enter to win below.
And here are the other amazing dressers that came out of this challenge!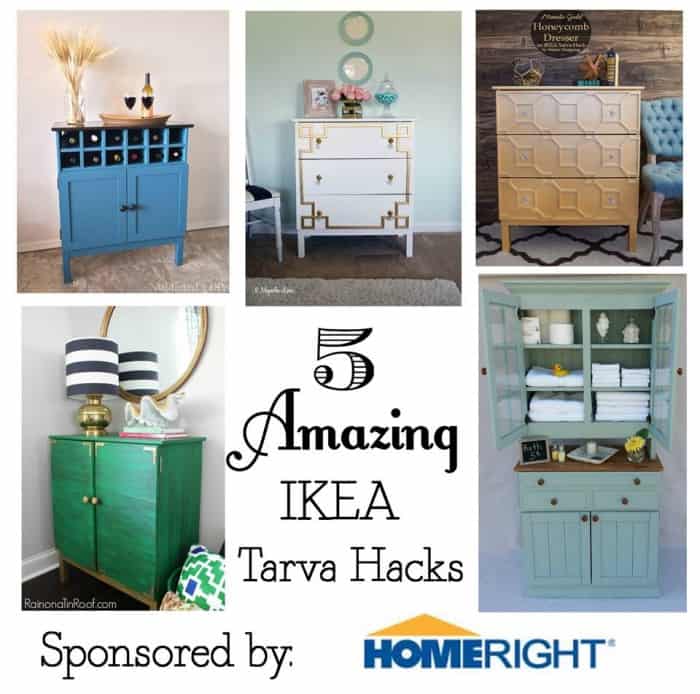 Addicted 2 DIY | 11 Magnolia Lane | Simply Designing
Rain on a Tin Roof | My Repurposed Life
*Winning entries will be verified.  This giveaway is in no way affiliated, administered or endorsed by Facebook, Pinterest, Twitter or Instagram.  No information will be disclosed to Facebook, Pinterest, Twitter or Instagram by entering this giveaway.  No purchase necessary to win.  Odds of winning are based on number of entrants.  Winner for prize package will be chosen randomly through Rafflecopter.  Giveaway will run from October 29, 2014 until November 6, 2014 at 6:00am EST.  Winner will be announced on November 6, 2014 in this blog post and the winner will need to respond within 48 hours of announcement via email to claim their prize or another winner will be chosen.  Winner must be 18 years of age or older and a US citizen with a US mailing address in order to win.  Winner is responsible for paying any necessary taxes on winnings.  All prizes will be mailed / emailed / fulfilled by the sponsor and the blog owner(s) involved are not held responsible if the prize is not fulfilled.  A list of winners may be requested after the giveaway has ended.  Please email me with any questions or to obtain additional information at: simplydesigning@gmail.com