This post brought to you by World Market. All opinions are 100% mine.
I am so incredibly lucky to have a wonderful Dad and also to have married an amazing Husband! I am so thankful to be surrounded by great men in my life and I love celebrating Father's Day because it is a wonderful day to celebrate the Fathers, Husbands and men in your life!
But if you are anything like me, Father's Day is one of the hardest holidays to shop for! Seriously people...these great men are hard to shop for! So I was really excited when I was asked to participate in the Cost Plus World Market Dad's Day Sweepstakes celebration! I was given the opportunity to shop at Cost Plus World Market for the perfect Father's Day Gifts!
Every year my sweet husband cooks me a wonderful Mother's Day dinner, and every year when I ask what he wants for Father's Day dinner he replies "I want to GRILL!"
Uhm. Yes, my husband wants to cook his own dinner on Father's Day! And...since it IS his special day...I kindly oblige 🙂
So when I saw a variety of BBQ sauces and other yummy BBQ foods available at World Market, I knew my husband would LOVE a gift basket centered around this theme because he loves BBQ & Grilling!
So I created a Rootbeer and BBQ Gift Basket for my husband! (It's kind of like a manly picnic basket!)
My husband also LOVES Rootbeer. And World Market has an amazing variety of yummy rootbeers and other sodas! It was so hard to choose!
So in the end, I came home with about 18 different bottles of soda, a Chili Con Queso Dip (he LOVES cheese dip), a couple varieties of delicious looking chips, an amazing looking BBQ sauce...and one other special surprise for my hubby!
We set out quite the spread and I let my husband get a sneak peak at his gift basket! He was thrilled!
We decided to BBQ what are probably the world's best burgers! We made up an amazing Hawaiian BBQ Bacon Burger that is to die for! (Don't worry, I will post all about it soon!)
The Rufus Teague Whiskey Maple BBQ sauce is amazing on burgers!
And the Chili Con Queso dip disappeared pretty quickly with World Market's yummy blue tortilla chips!
My children, my husband and I had a wonderful time celebrating their dad with an amazing BBQ!! (And isn't that burger drool-worthy!? It tasted amazing too!)
My husband is truly the greatest dad! He works so hard at his job and comes home and spends wonderful quality time with our children! He also always manages to squeeze in time to help me with house projects, garden, take care of our yard and many other jobs he does around the house. And then he offers to cook his own Father's Day dinner. He is a keeper for sure!
He is a wonderful dad and an amazing husband! Our children and I are so lucky to have him!!
Even though my husband loves to cook his own Father's Day dinner, I did manage to have one surprise for him!
While at World Market, I picked up (2) small cast iron skillets with a delicious plan in mind!
My husband's favorite cookie is a chocolate chip cookie, so I decided to make big cookies in the cast iron pans! I topped the cookies with ice cream and we all enjoyed a delicious, amazing treat and celebrated how much we loved my husband!
Doesn't that just look incredible!?!?!?! Yum! (Don't worry I will share my recipe with you on my blog later too!)
Cost Plus World Market is Celebrating Father's this year with their Dad's Day Sweeps!
Facebook Fans can enter to win one of 4 Weekly Grand Prize Packages: $1,000 World Market gift card for you and $1,000 World Market gift card for dad!
You can also earn bonus entries by liking Cost Plus World Market on FB, Twitter, Pinterest, Instagram and Tumblr.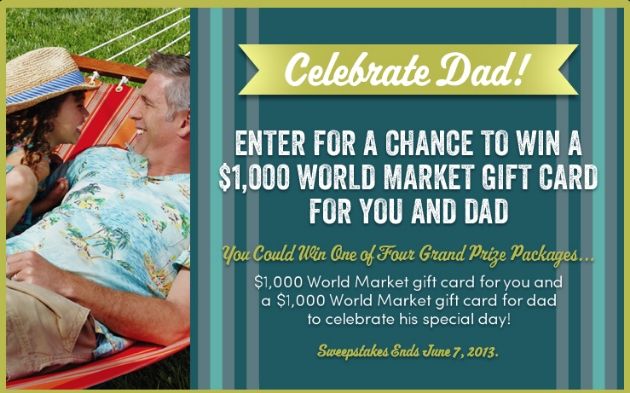 I love our dad and husband and we can't wait to make Father's Day a special day for them!