I am a huge fan of fruit crisps and this Rhubarb Strawberry Crisp is a delicious crisp perfect for any time of year. It is sweet and a bit tangy and oh-so-delicious. Keep reading for the full recipe.

Rhubarb Strawberry Crisp
Rhubarb and strawberry are a delicious combination. Rhubarb can be a bit tangy and the strawberries bring the perfect amount of sweetness to make this crisp absolutely drool-worthy.
So let's talk about crisps for a minute and then I will delve into this delicious recipe.
The best crisp recipes:
Rhubarb Strawberry Crisp (keep reading to snag this delicious recipe)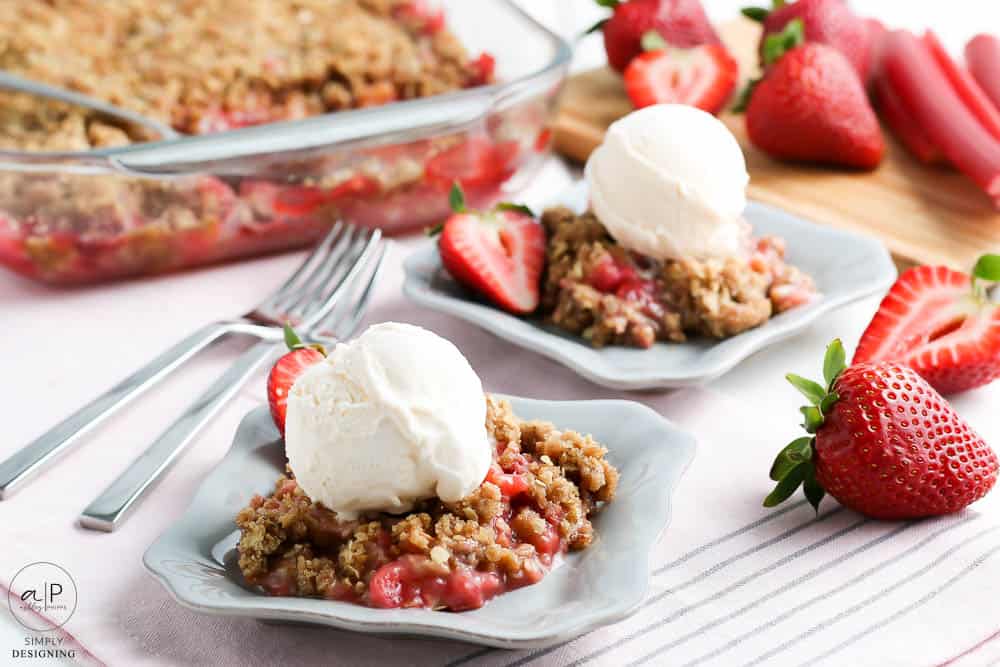 What's the difference between a crisp and a crumble?
Crisps and crumbles are both yummy fruit-based desserts that typically have fruit (or a fruit mixture) on the bottom, with a yummy topping.
Crumbles and crisps are generally very similar. However, the toppings on crisps and crumbles are slightly different.
The topping on a crisp usually contains oats, whereas the topping on a crumble usually does not have oats. However, you will often find the name "crisp" and "crumble" interchanged because they are so similar.
When can you eat rhubarb?
You can eat rhubarb all year long! It is best to harvest rhubarb in spring and early summer as rhubarb harvested in late summer can sometimes be a little woody, and it doesn't always taste as good.
However, when rhubarb is in season, I suggest snagging some extra and cutting it, and freezing it for later. Or you can often find some frozen at local stores, markets, or farms.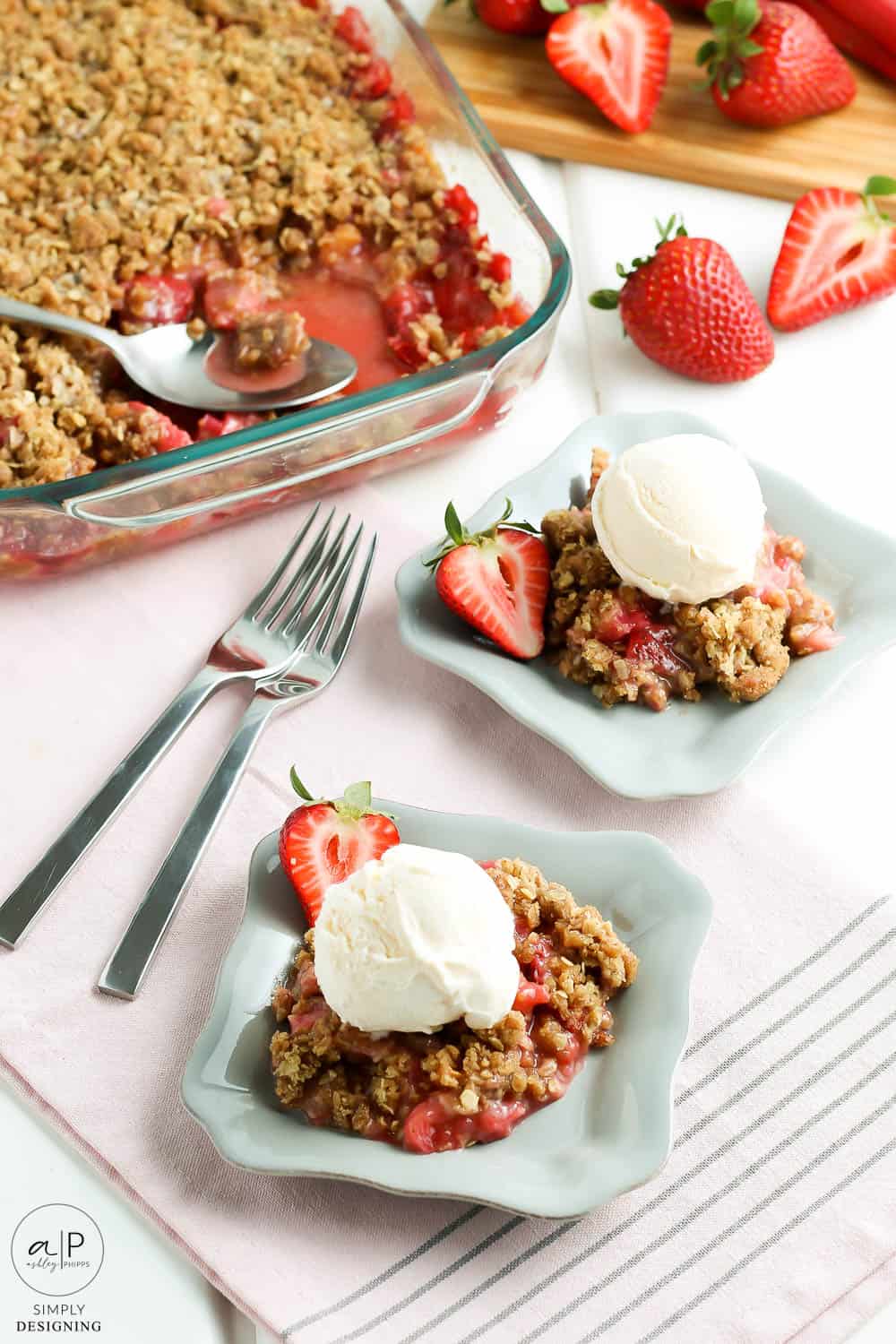 What is rhubarb?
Ok, I realize that some of you may not even know what rhubarb is. Rhubarb reminds me of pretty, red (or green) celery because it grows on similar stalks. However, it tastes nothing like celery. It is a little sweet and a little tangy and is the perfect ingredient for a crisp.
Is rhubarb a fruit or a vegetable?
Technically, rhubarb is a vegetable. But a New York court in 1947, ruled that because it is typically cooked and used as a fruit in the US, that it would be legally considered a fruit.
So I guess it is both a fruit and a vegetable.
Weird, right?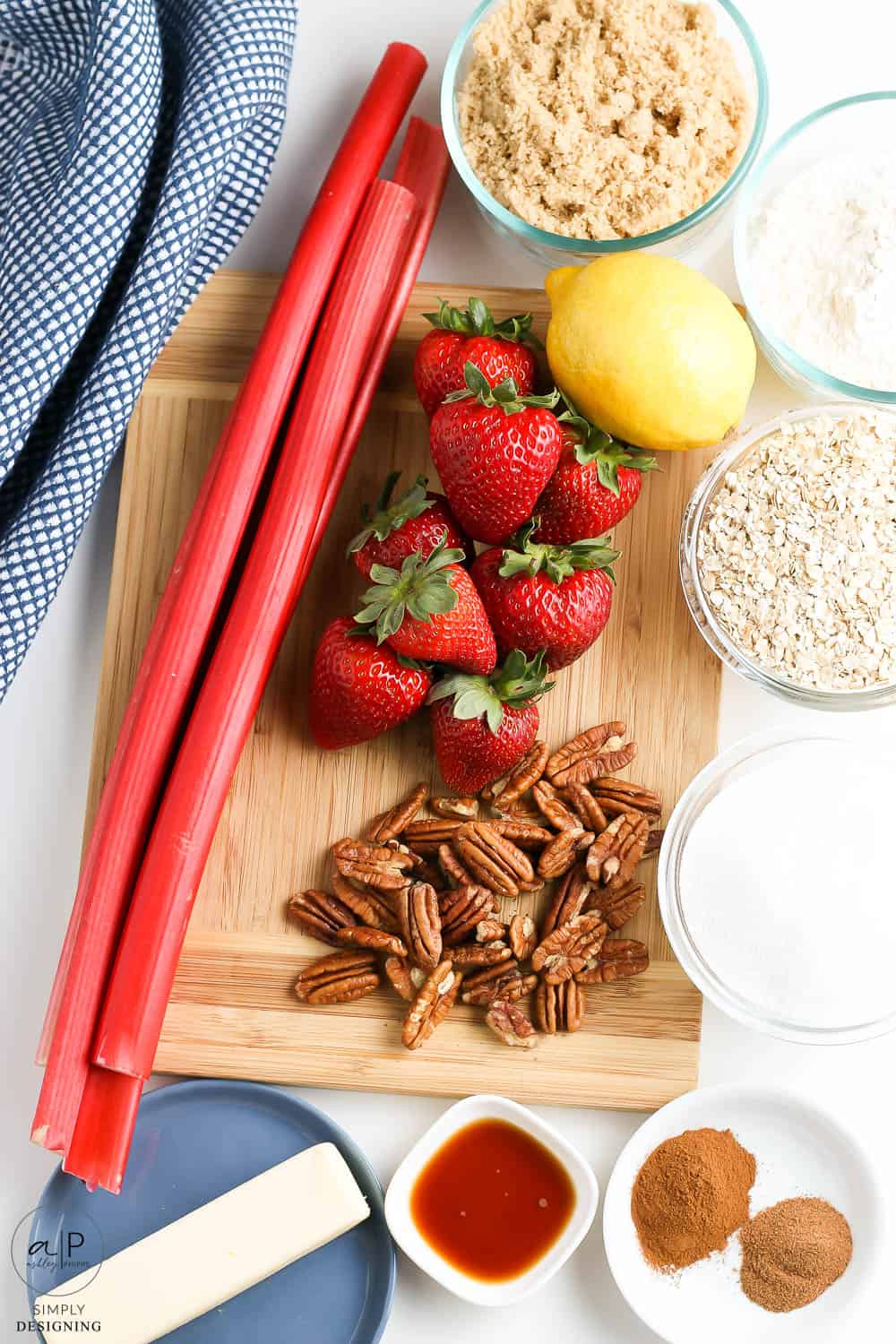 What you'll need to make a strawberry rhubarb crisp:
Rhubarb
Strawberries
Granulated Sugar
All-Purpose Flour
Lemon Juice
Vanilla Extract
Brown Sugar
Quick-Cooking Oats
Cinnamon
Nutmeg
Nuts (pecans or walnuts)
Unsalted Butter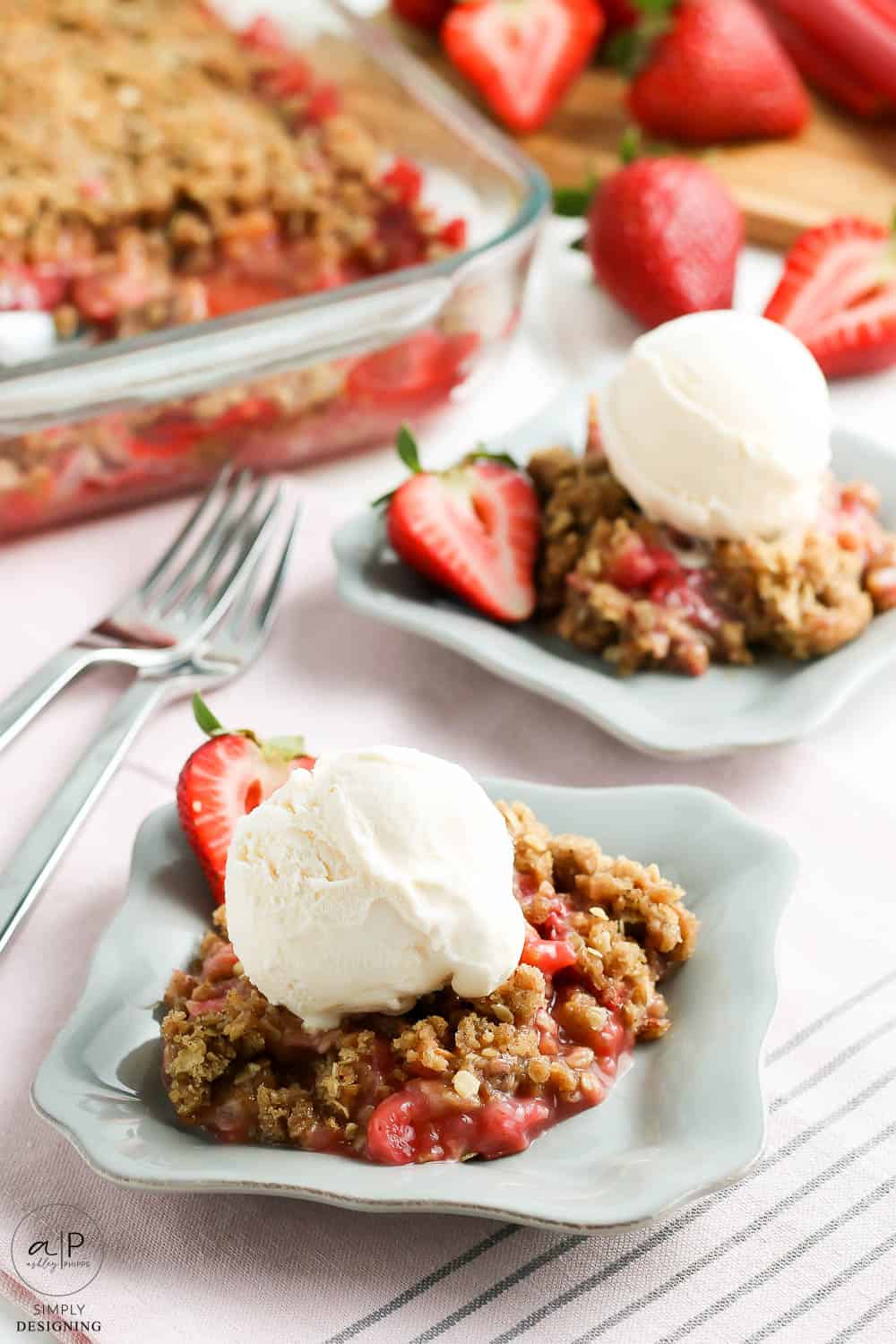 Why should I make a crisp?
Ok, so crisps are totally my jam. I am PRO-fruit dessert, and I am PRO-easy. Crisps are both, so they are a favorite go-to dessert for me to make. This dessert doesn't take long to prep but the pay off in amazing flavor is well worth it.
Alright, should we get on with this recipe? I think we should...let's go!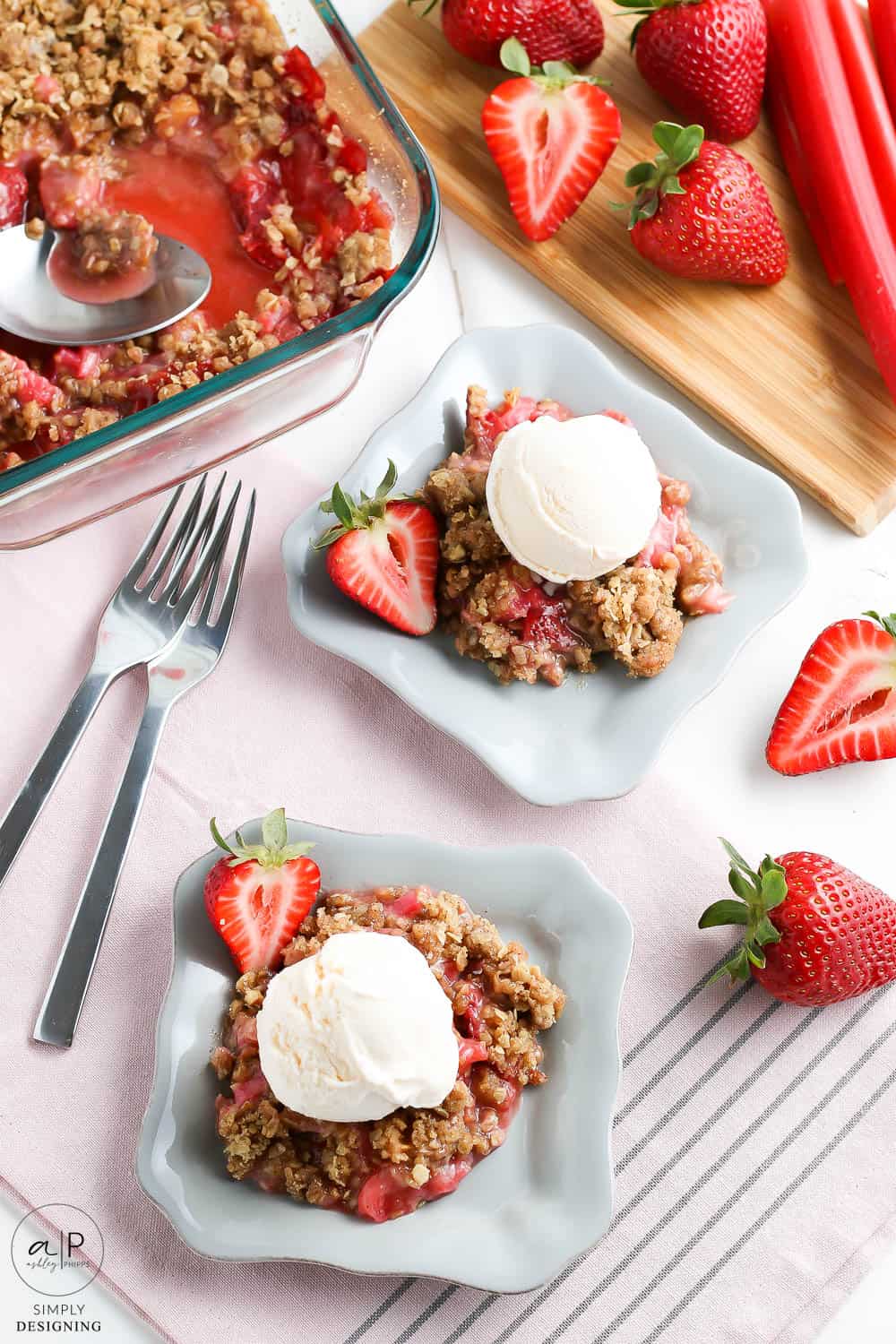 Rhubarb Strawberry Crisp Recipe
Ingredients:
1 pound (4 cups) rhubarb, cleaned, trimmed, and cut into ½ inch pieces
1 pound (4 cups) strawberries, cleaned and quartered
1 cup granulated sugar
⅓ cup all-purpose flour
2 teaspoons lemon juice
1 teaspoon vanilla extract, optional
Topping:
1 ½ cups brown sugar, packed
1 cup all-purpose flour
1 cup quick-cooking oats
2 teaspoons cinnamon
1 teaspoon nutmeg
½ cup nuts, pecans or walnuts, chopped, optional
½ cup unsalted butter, melted
Ice cream for serving if you like.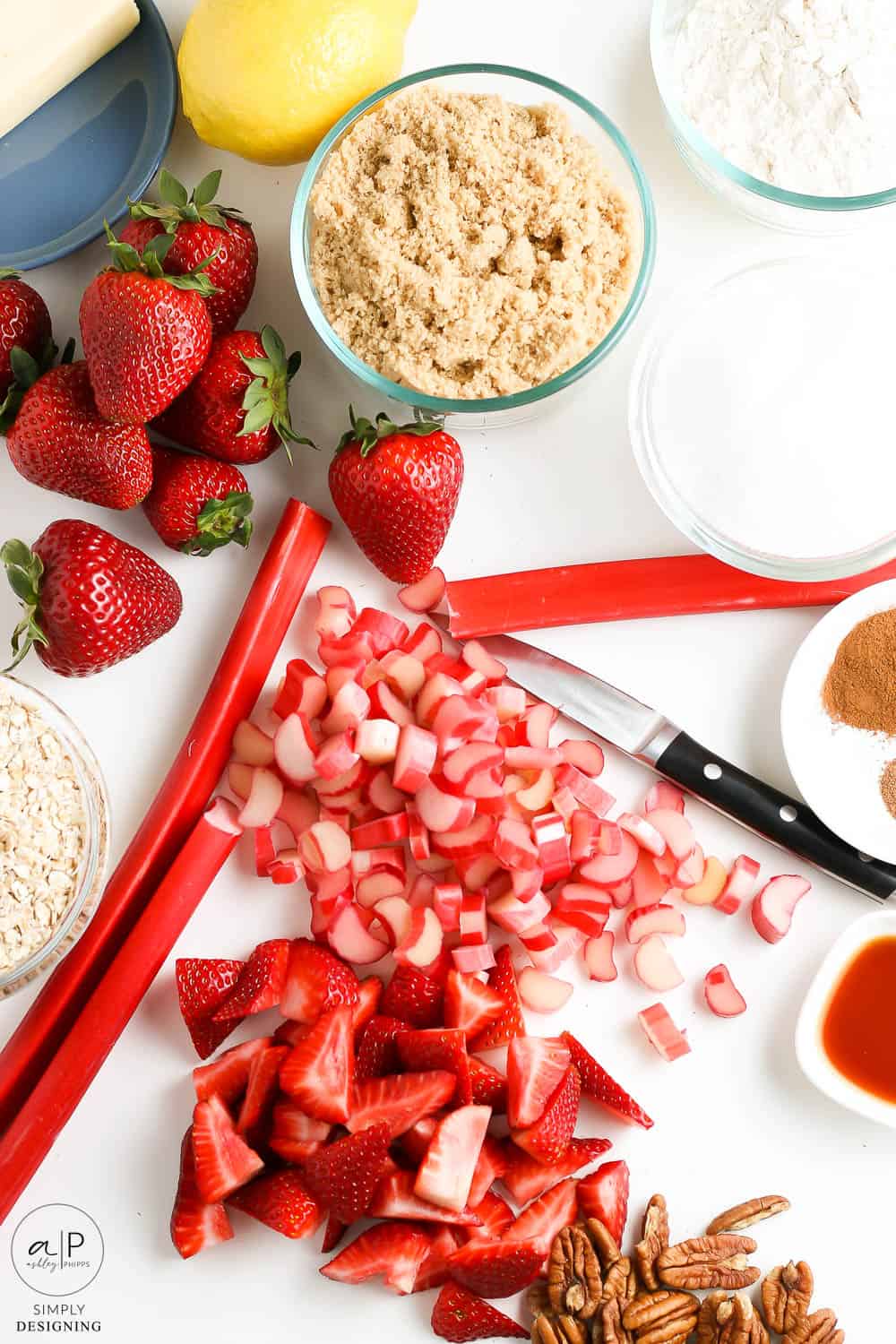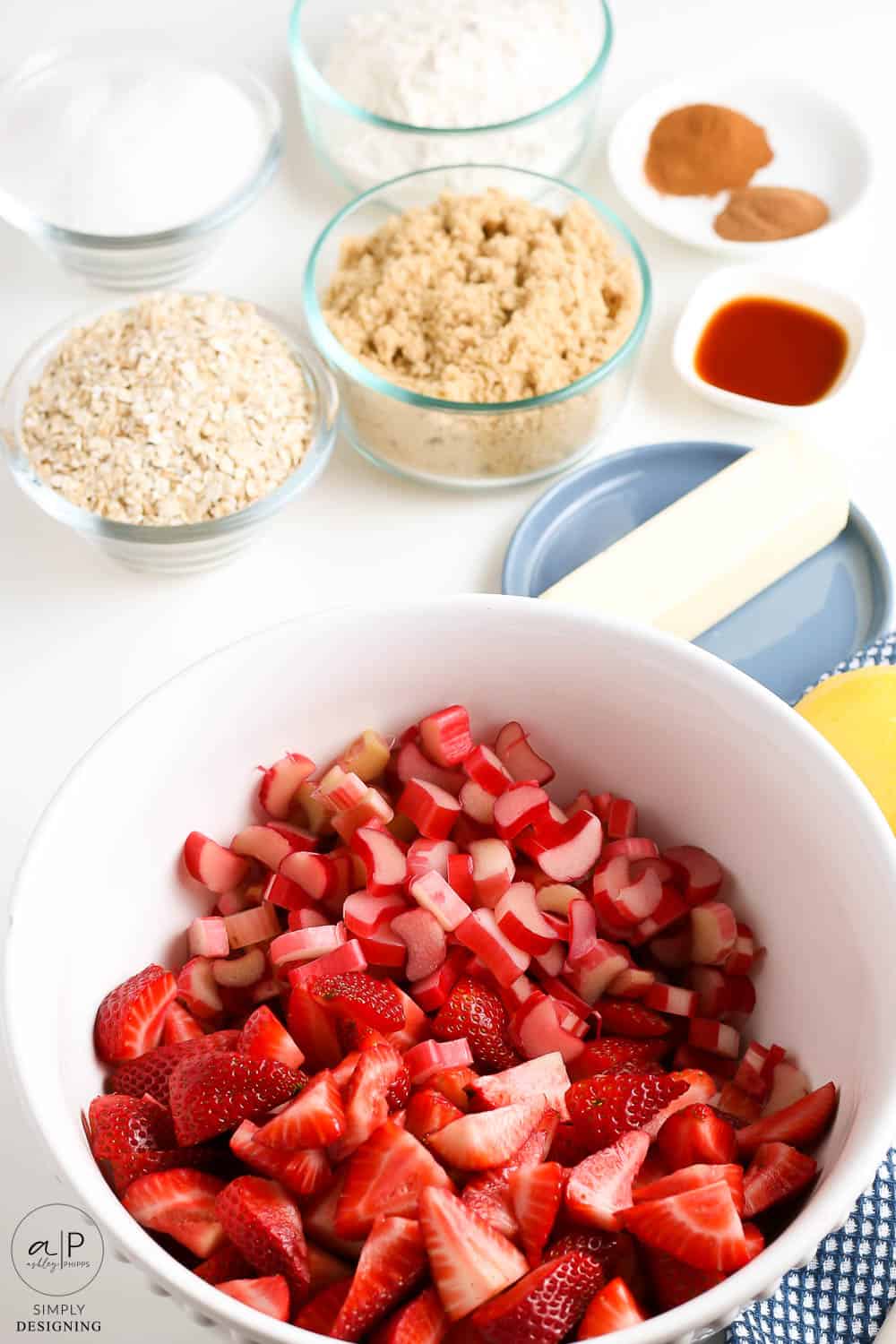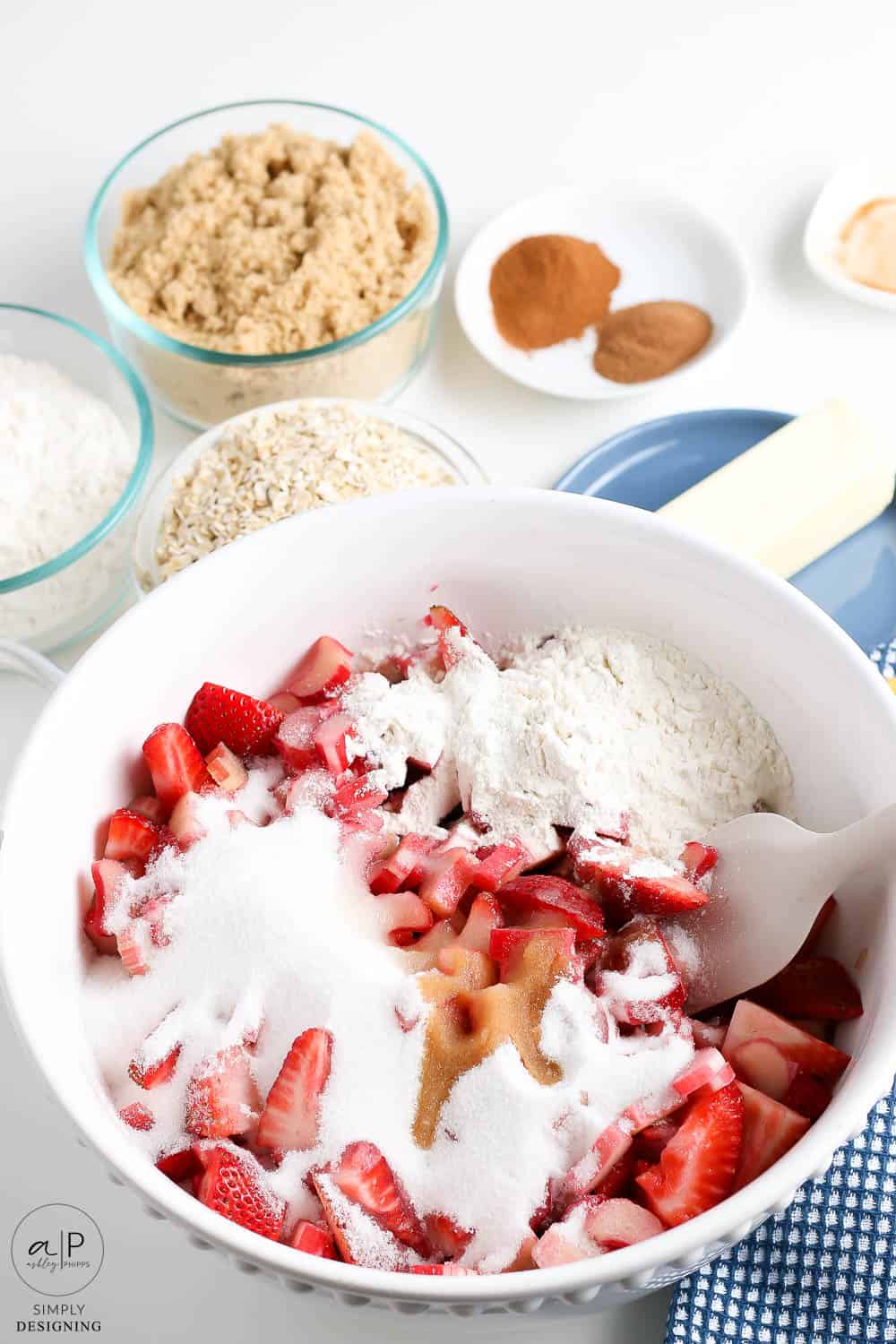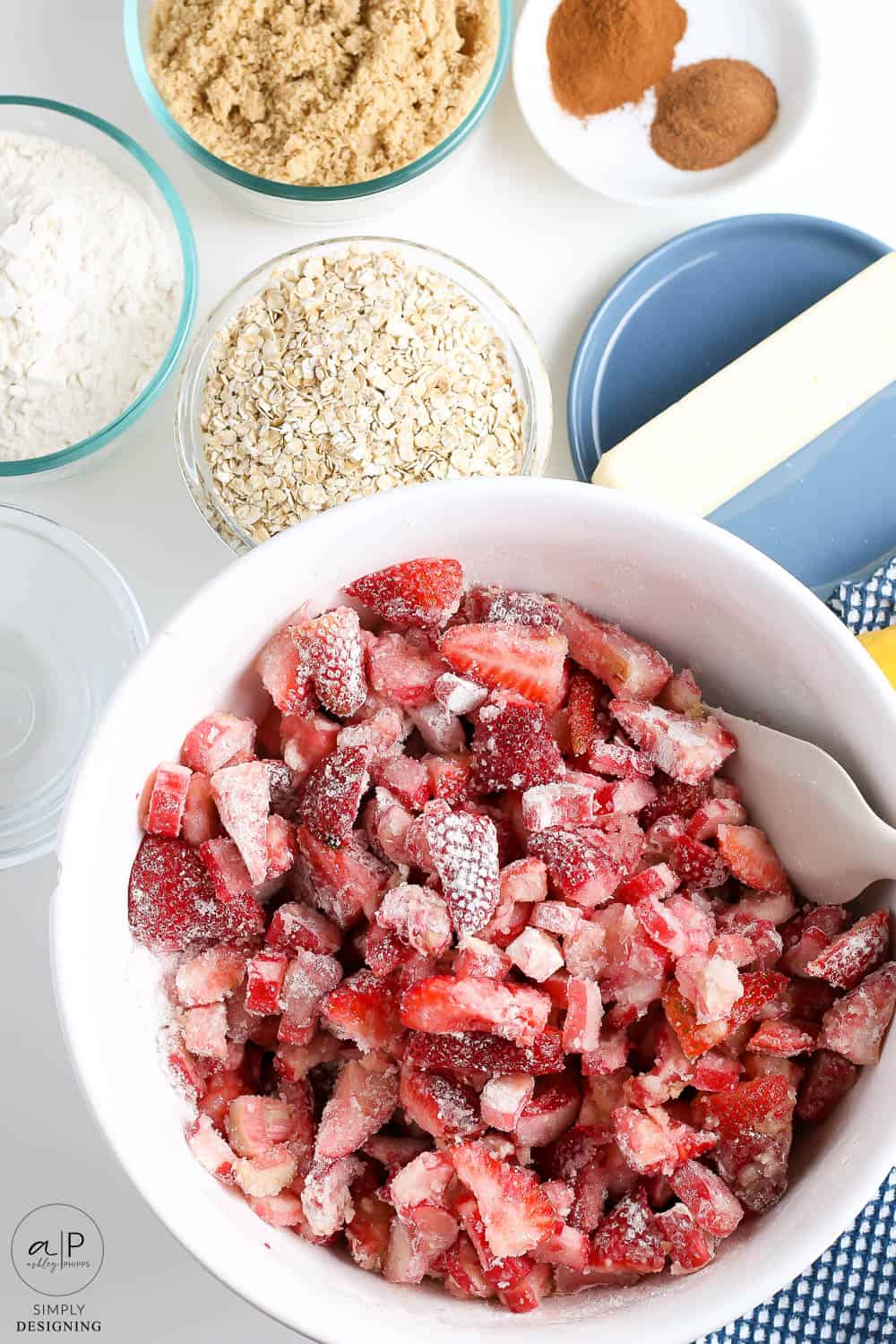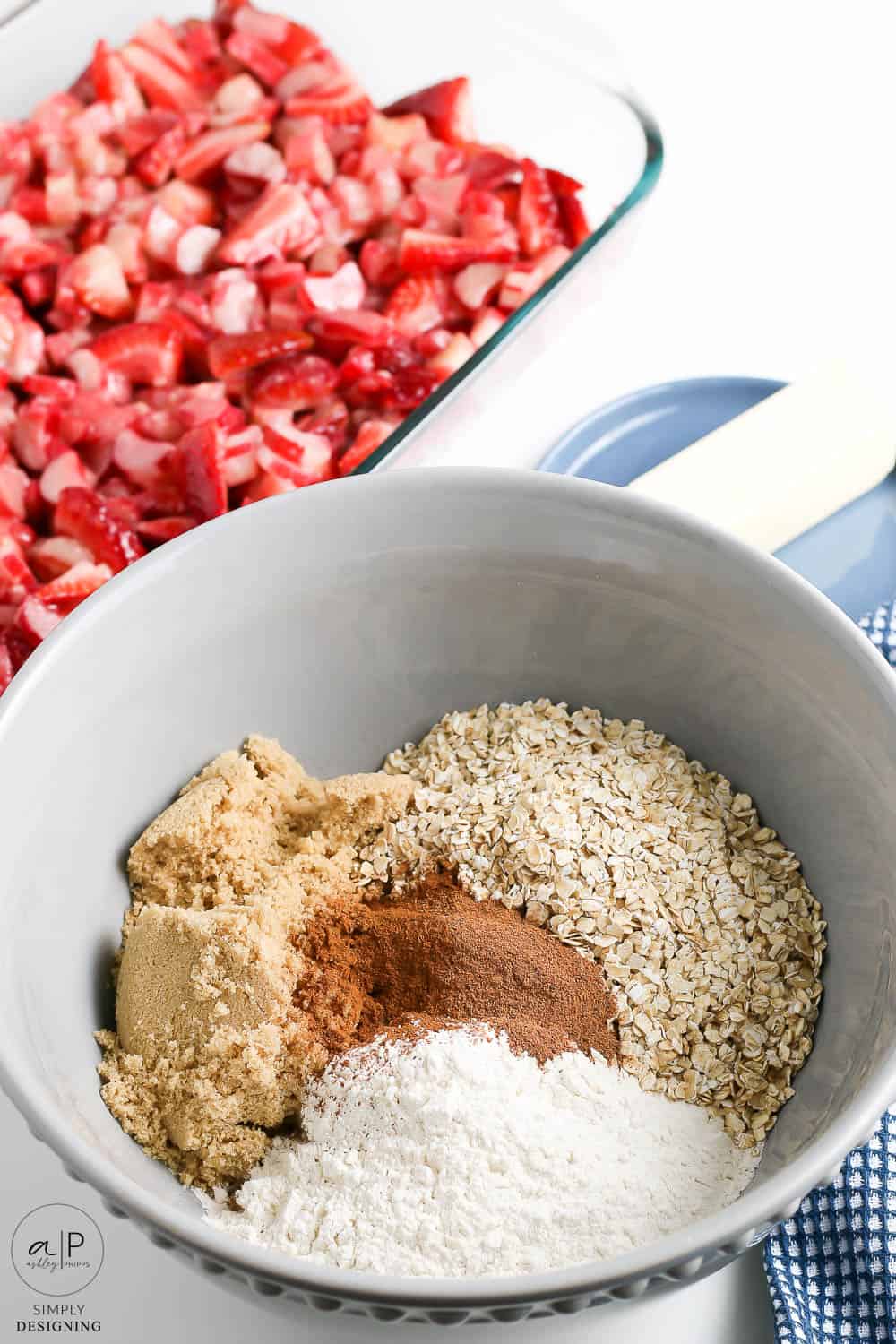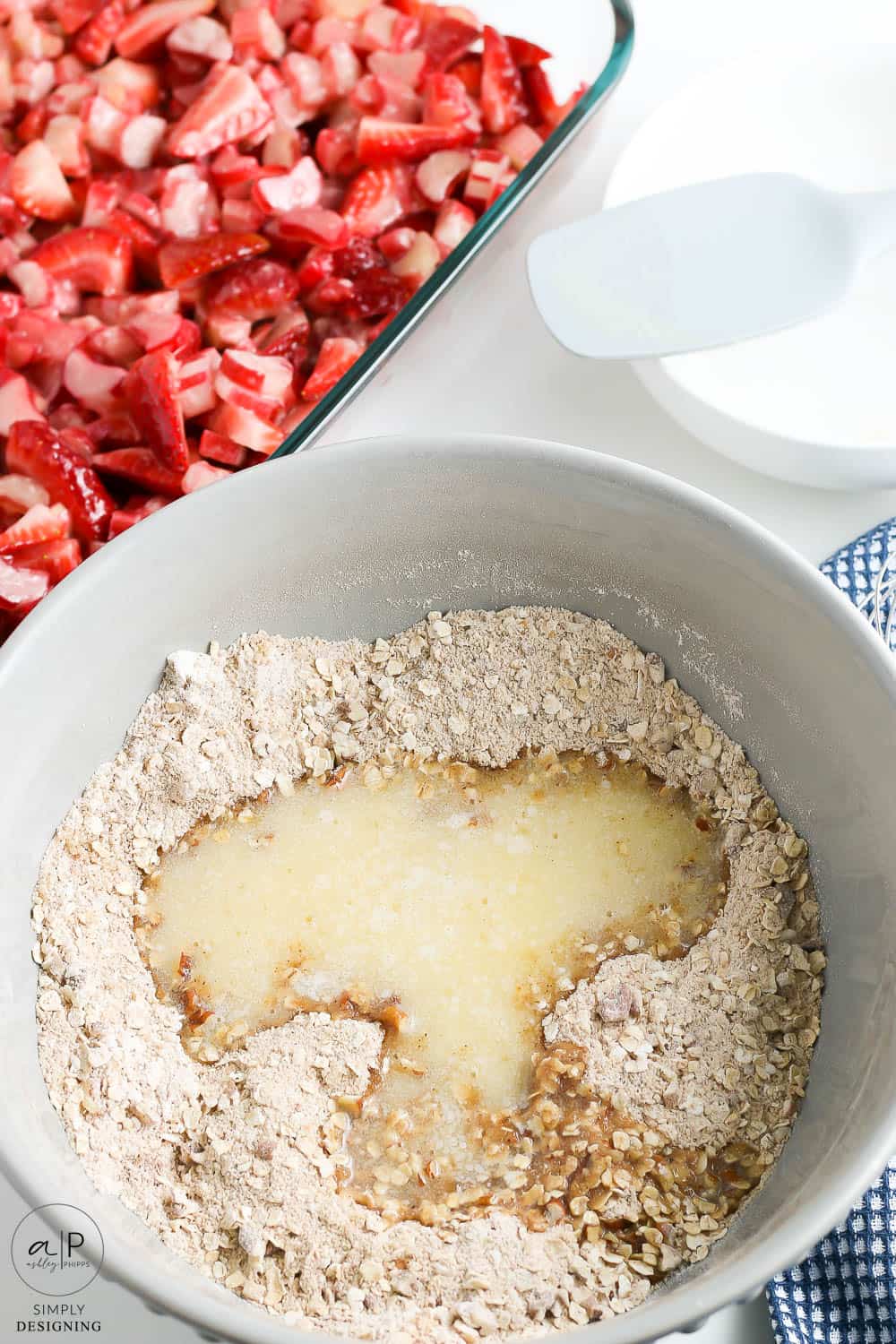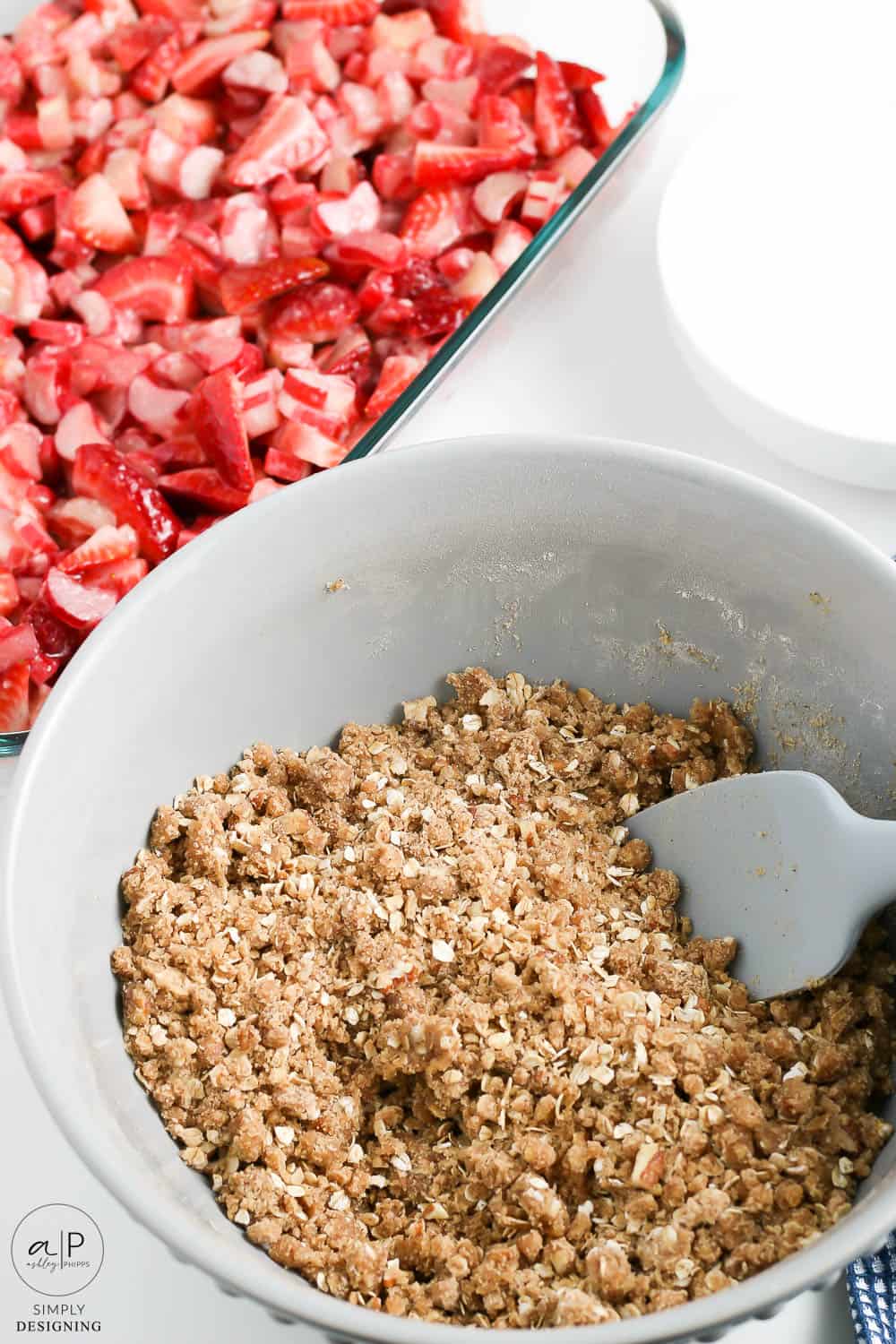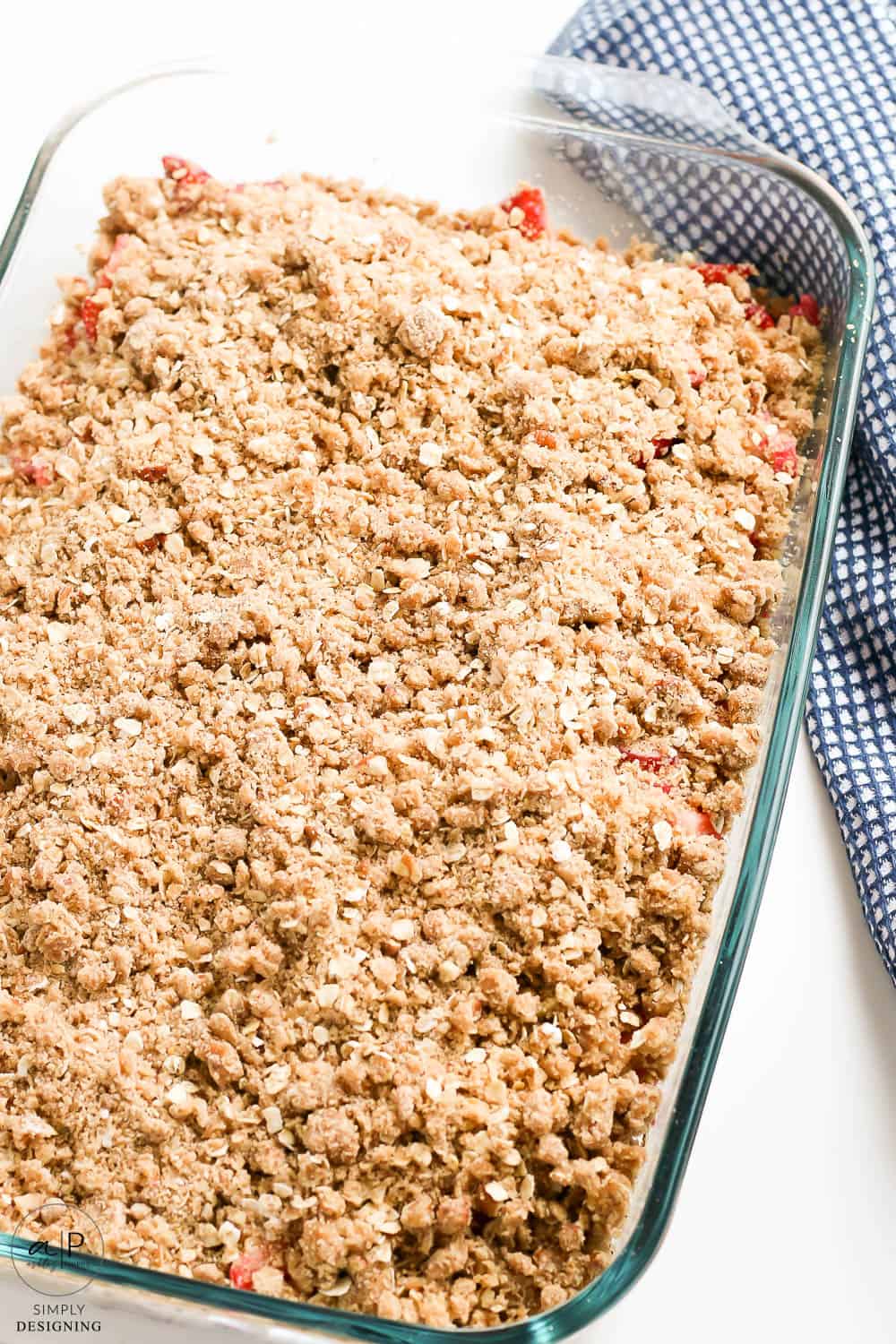 Instructions:
Preheat oven to 350 degrees F
Prepare 13x9 baking dish with non-stick cooking spray
In a large bowl, add rhubarb and strawberries, stir to combine
Add sugar, flour, lemon juice, and vanilla extract stir to combine
Pour into greased baking dish
In a medium bowl, stir together brown sugar, flour, oats, cinnamon, nutmeg, and nuts (if using)
Melt butter in a microwave-safe bowl and stir into mixture until well combined and crumbly
Sprinkle on top of the fruit
Bake for 35-40 minutes or until golden brown and fruit is bubbling
Cool for 10-15 minutes before serving. Serve with ice cream if desired
I am also a fan of serving crisp with vanilla ice cream, so be sure to keep some on hand!
You can snag the printable recipe below:
Yield: 12
Rhubarb Strawberry Crisp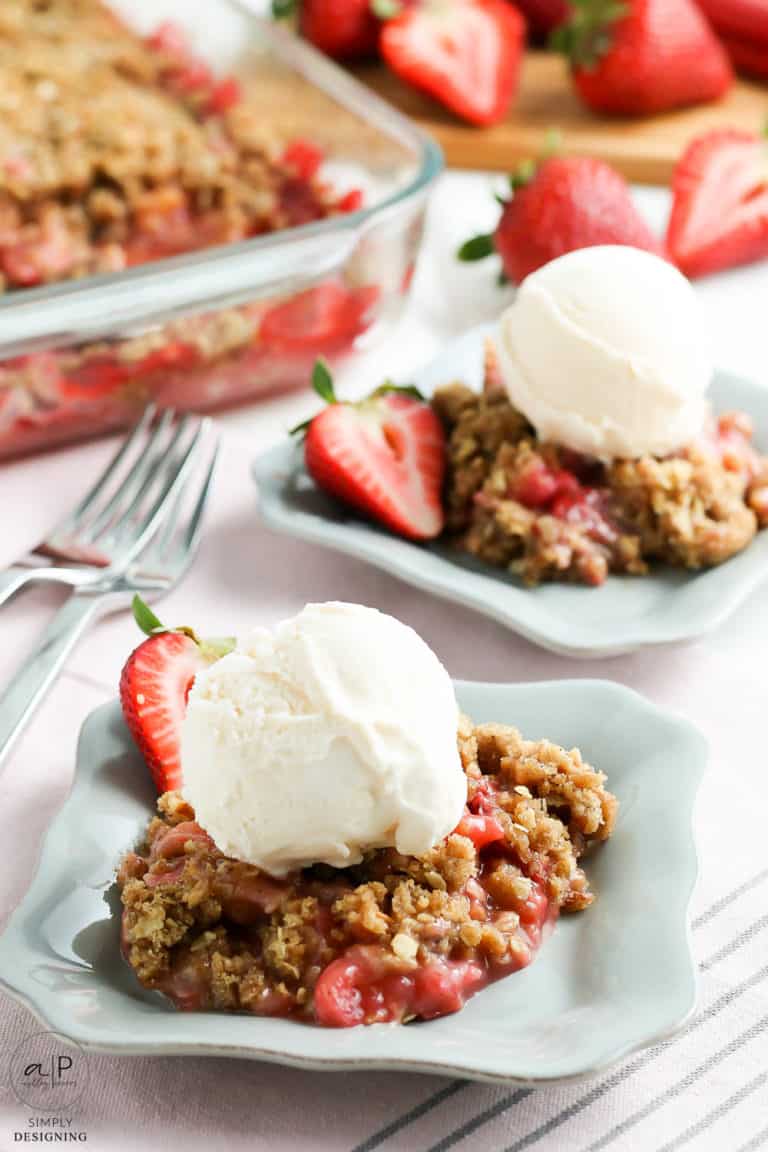 This rhubarb strawberry crisp is sweet and a bit tangy and oh-so-delicious. 
Prep Time 10 minutes

Cook Time 35 minutes

Additional Time 15 minutes

Total Time 1 hour
Ingredients
Filling
1 pound (4 cups) rhubarb, cleaned, trimmed, and cut into ½ inch pieces
1 pound (4 cups) strawberries, cleaned and quartered
⅓ cup all-purpose flour
1 cup granulated sugar
2 teaspoons lemon juice
1 teaspoon vanilla extract, optional
Topping
1 ½ cups brown sugar, packed
1 cup all-purpose flour
1 cup quick-cooking oats
2 teaspoons cinnamon
1 teaspoon nutmeg
½ cup nuts, pecans or walnuts, chopped, optional
½ cup unsalted butter, melted
Instructions
Preheat oven to 350 degrees F
Prepare 13x9 baking dish with non-stick cooking spray
In a large bowl, add rhubarb and strawberries, stir to combine
Add sugar, flour, lemon juice, and vanilla extract stir to combine
Pour into greased baking dish
In a medium bowl, stir together brown sugar, flour, oats, cinnamon, nutmeg, and nuts (if using)
Melt butter in a microwave-safe bowl and stir into mixture until well combined and crumbly
Sprinkle on top of the fruit
Bake for 35-40 minutes or until golden brown and fruit is bubbling
Cool for 10-15 minutes before serving. Serve with ice cream if desired
Nutrition Information:
Yield:
12
Serving Size:
1
Amount Per Serving: Calories: 337Total Fat: 12gSaturated Fat: 5gTrans Fat: 0gUnsaturated Fat: 6gCholesterol: 20mgSodium: 24mgCarbohydrates: 56gFiber: 2gSugar: 39gProtein: 4g

Nutrition information isn't always accurate.

You might also enjoy these posts: