This shop is part of a social shopper marketing insight campaign with Pollinate Media Group® and Sharpie,but all my opinions are my own. #pmedia  #StaplesBTS #ad  http://my-disclosur.es/OBsstV
Today is our last day of summer break for both of my children.  Tomorrow my daughter heads off to second grade and while I am really excited for her (she loves school), I have to admit I am also a little sad.  I have truly enjoyed having both kids home full time over the summer.  But both are happy to begin school again!  Yesterday we met my daughter's teacher and after meeting her I am so excited for my daughter to give her a little gift we made for her: a metallic colorblocked clipboard!
This clipboard totally fits her personality and style and after meeting her, my daughter is even more excited to begin school!  So come and check out how incredibly easy this clipboard is to make!
Metallic Colorblocked Clipboard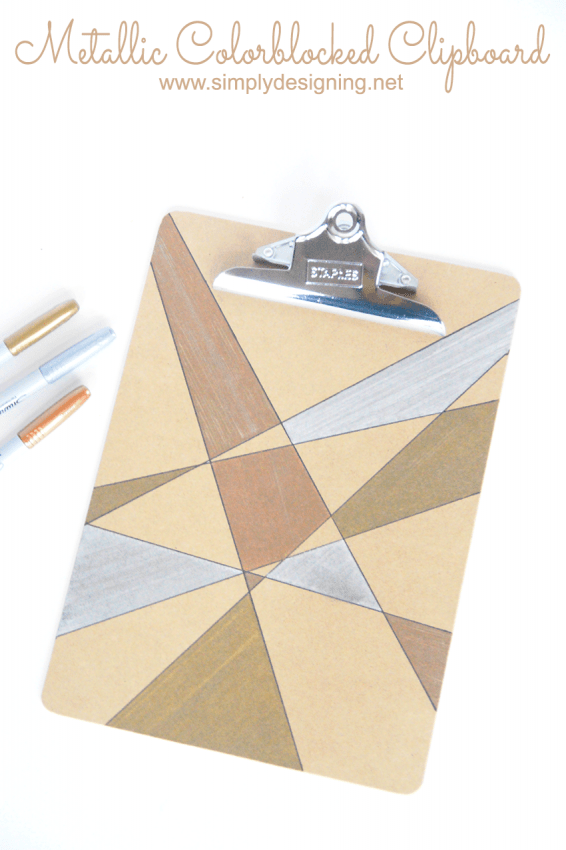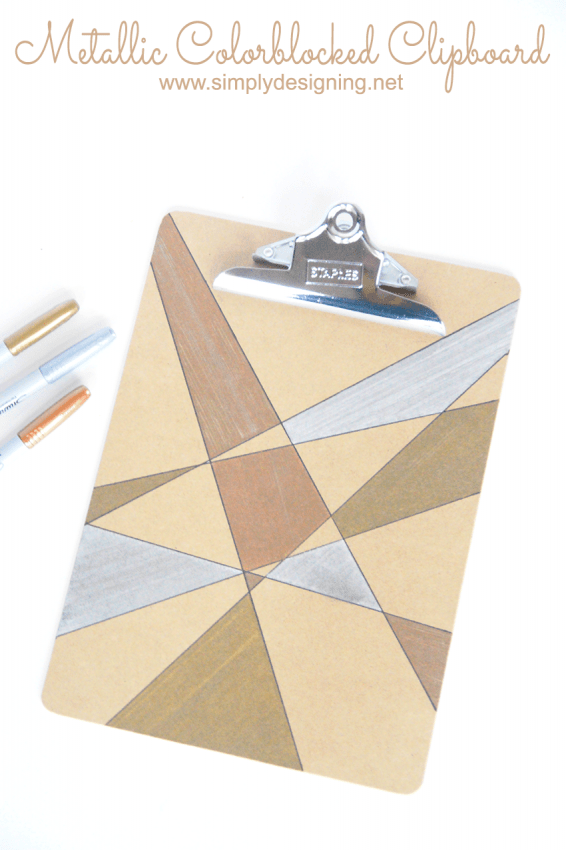 We headed off to Staples the other day to pick up a few school supplies and while I was there I found an incredible display of Sharpie products!  I really love Sharpie markers and couldn't help but pick up a few packs for myself!  They were on sale too!  (fine and ultra find Sharpie markers and highlighters are on sale while supplies last)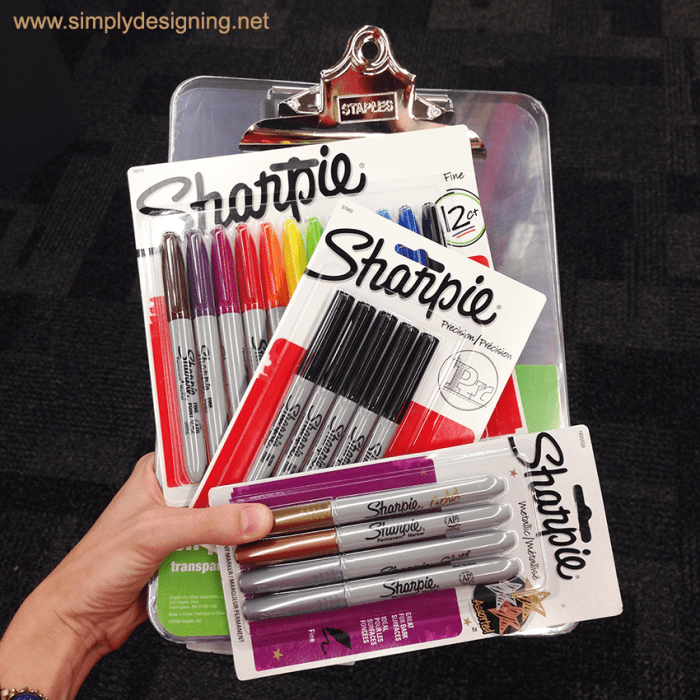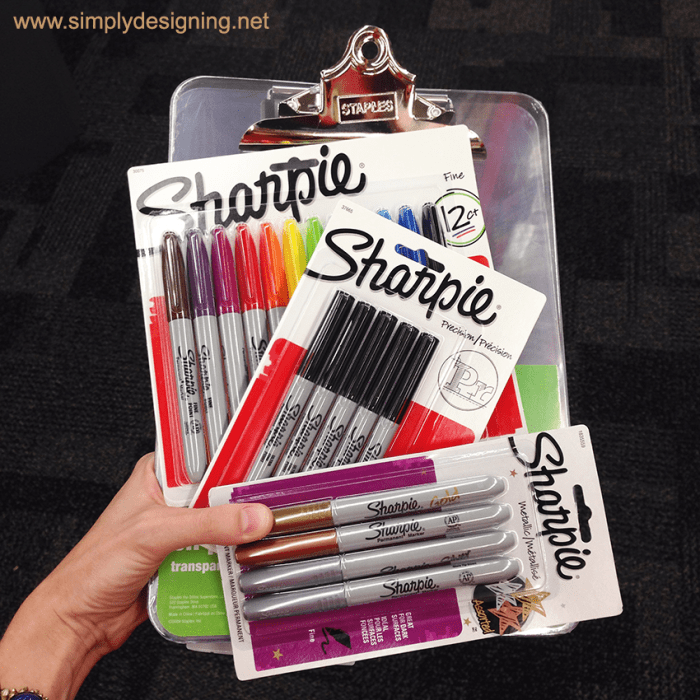 While we picked up a few back to school supplies we needed, we also grabbed a few items to make our really cute metallic colorblocked clipboard!  I picked up a traditional brown clipboard and a few packs of markers.  I ended up using a Black fine Sharpie and the really fun Metallic set as well!  (But I picked up several other packs for my own use including a black ultra fine set and a multicolored fine set!)  You will also want a ruler to complete this project as well.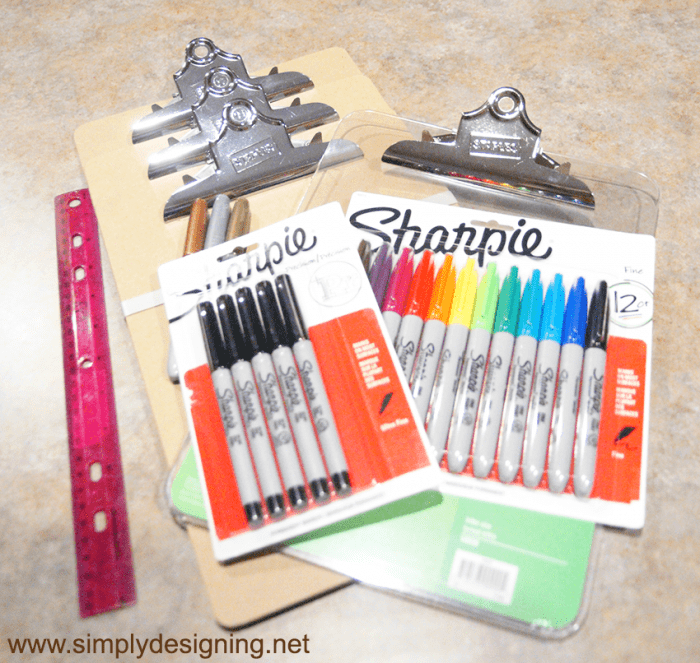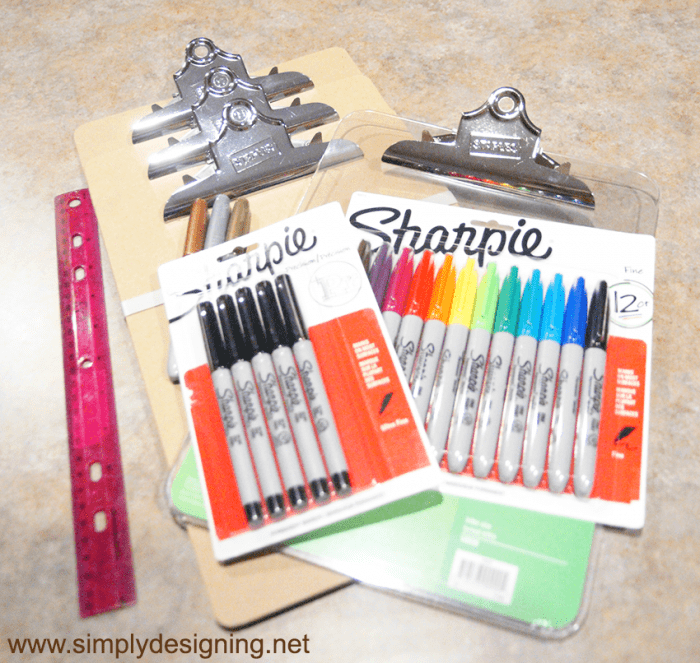 So here is what you will want to do to create your own metallic colorblocked clipboard:
First you will want to use your black marker to set out your basic design.  I used an 18" ruler and randomly drew lines from one side of my clipboard to another to create a fun pattern perfect for color-blocking.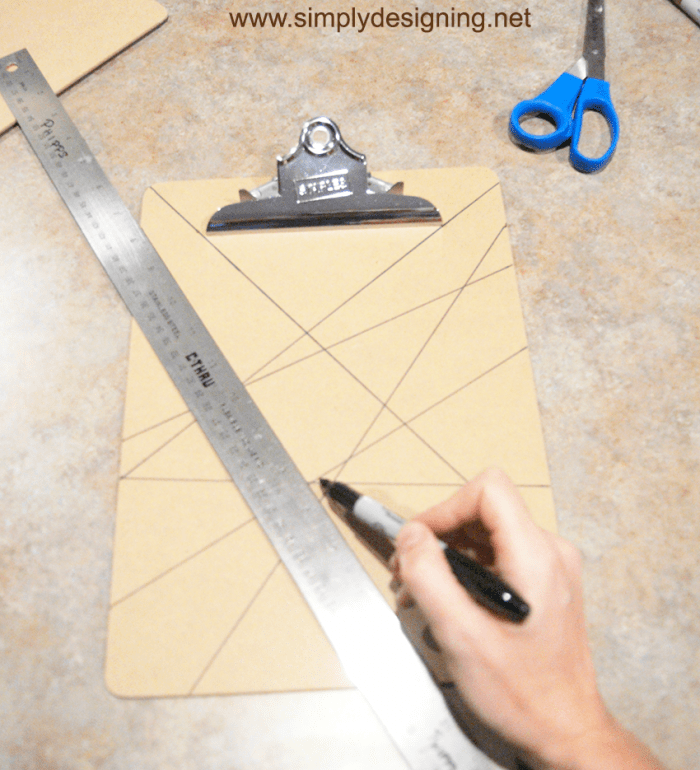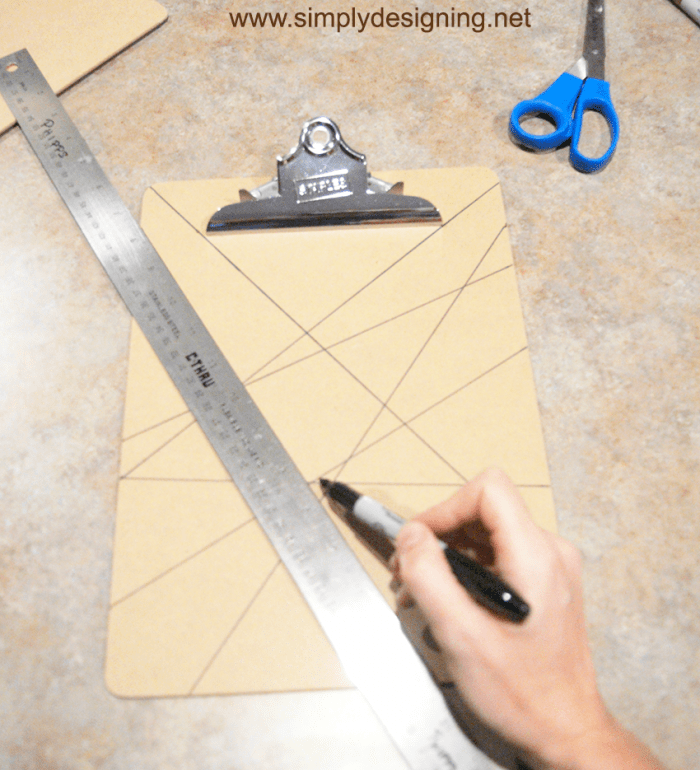 Then I simply used me metallic markers to fill in the shapes!  I tried to be sure that about every other block was colored in, but that isn't always possible.  So just use your creativity and have fun with this!  You can even allow your kids to do this project all by themselves (if they are older and you trust them with permanent marker of course!  I suggest having them wear old clothes.)  But really, this is a great project for the little ones to do!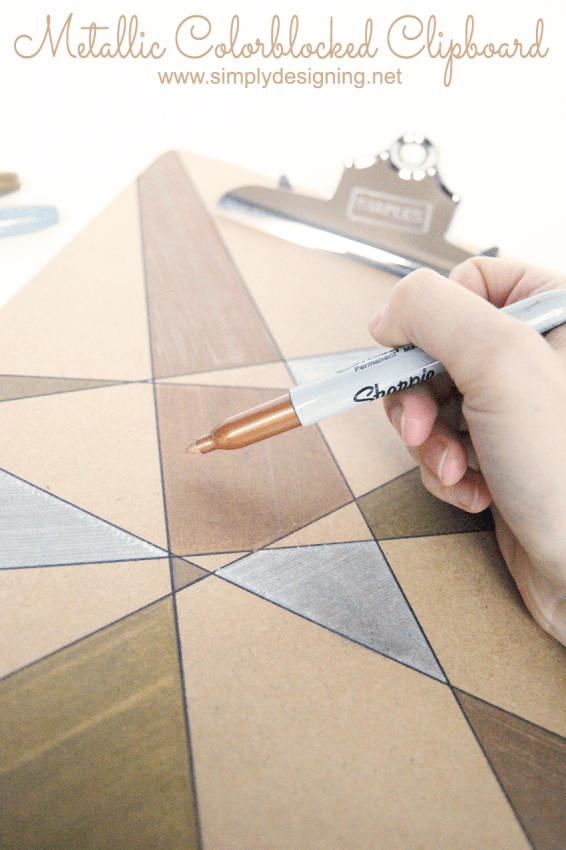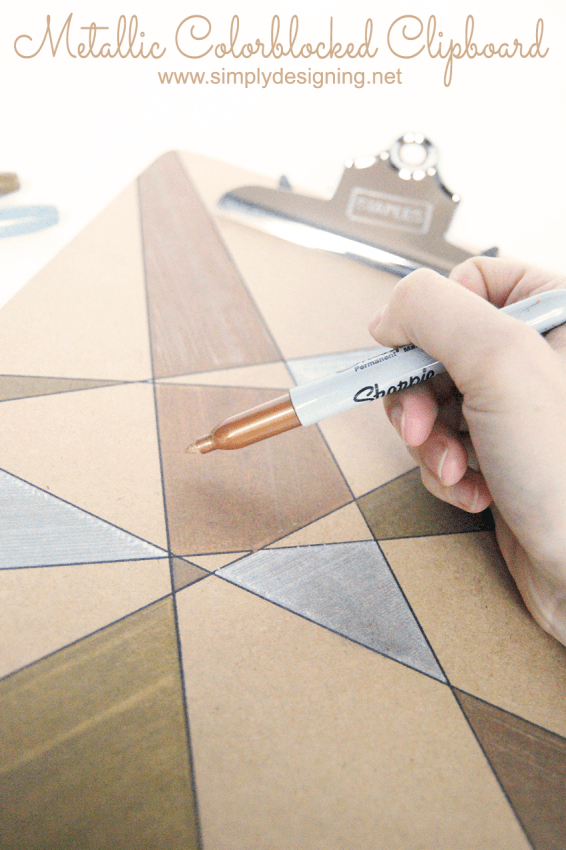 This was such a fun and simple project and will make a great teacher appreciation gift for back to school!  I can't believe my kids are headed back to school, but I am absolutely thrilled that they are going back with fun metallic colorblocked clipboard gifts to give their teachers!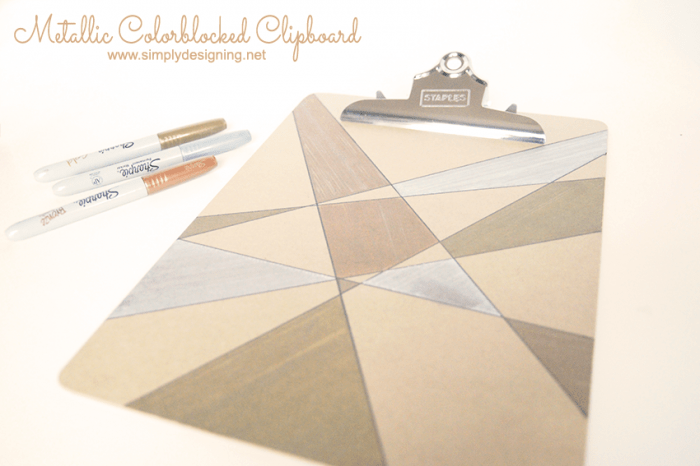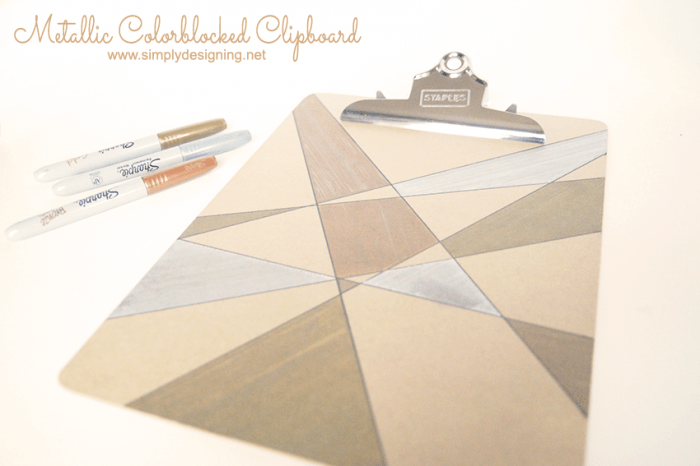 If you are looking for other simple and fun teacher appreciation gifts for back to school, you might enjoy these projects too: