I have loved coming up with fun and new kids crafts this summer to work on with my kids!  Some of them I have posted about here, and some we just enjoyed on our own!  But one of my most recent adventures in crafting with my kids involved us making soap!  Seriously!  Did you even know that kids could make soap!?!?  It really can be truly easy!  So today I am really excited to show you, with the help of my daughter how to make kids soap!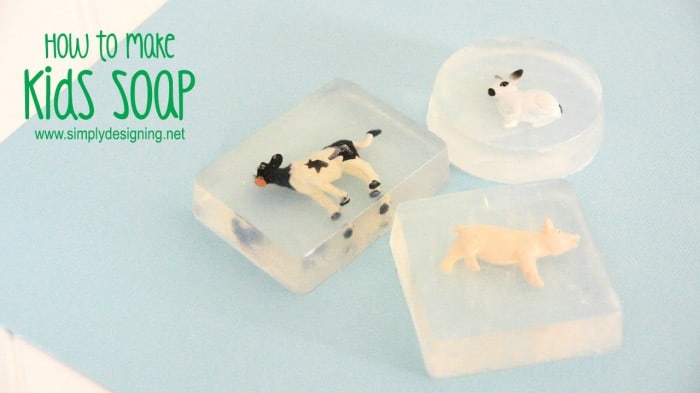 First of all a big huge thank you to Consumer Crafts for sending me product and for sponsoring this project!  In fact, Consumer Crafts challenged me to come up with a kids craft for $10 or less #craftsunder10hoa !!  And you know how I always love a good challenge!  So I couldn't wait to start creating!
So we came up with the fun idea to make kids soap as our craft!
My total cost ended up being about $3 per bar of soap and that includes everything you need to make it!  You might be able to do it cheaper if you have any of the needed items at home already (and you will have left over toys, extra fragrance, and a reusable soap mold that I have included in that cost).  But $3 for a bar of soap + a toy + kids activity = cheap fun in my book!
So check out my video below that I made with the help of my sweet little daughter and see just how simple it is to make soap!  Seriously!  You can watch my 7 year old show how to make kids soap by herself!!  (With adult supervision of course!)
How to Make Kids Soap
I hope you enjoyed the video!  I honestly just explained how to make kids soap to my daughter one time and she got it totally right on the first time, on video and all!  She is a great little crafter!  I am so proud of her.
Be sure to enter to win a great giveaway from Consumer Crafts below!