One of the questions I am asked regularly is How to Start a Blog.  I have readers email me to ask questions, I have close friends and even past associates ask me for the lowdown on how to start a blog!  And guess what?  I absolutely LOVE helping people figure out both the nitty-gritty and the high-level aspects to starting their own blog!  I love teaching and I love sharing the knowledge that I have learned with other people.  I also will say that I don't know it all, but I certainly have come a long way in my blog journey.  So today I am excited to share my tips and tricks for how to start a blog so that you can quickly be on your way to creating an awesome site!  I hope this can be a great resource for anyone looking to begin their own blogging journey.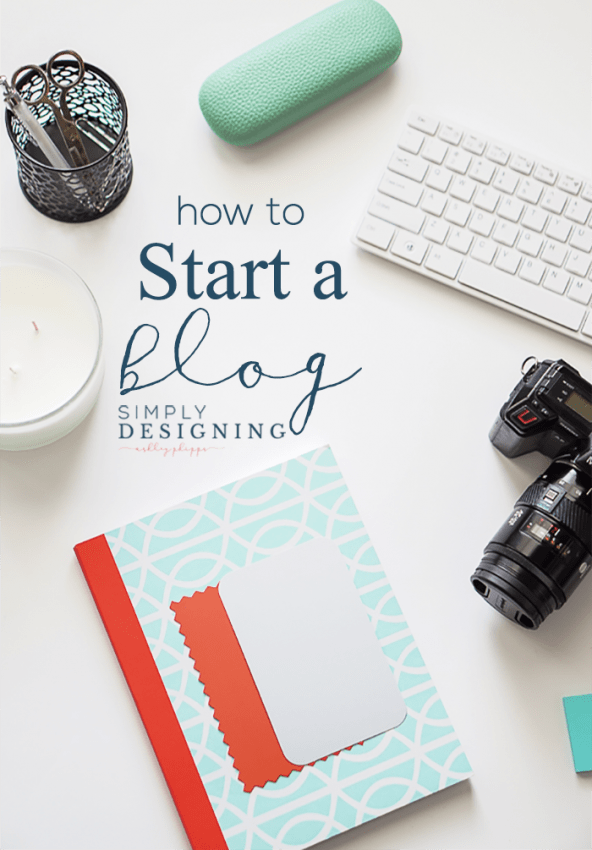 I must admit, when I started my blog, I had no idea what I was doing.  I was on bedrest with my son and simply bored out of my mind.  After spending way too much time reading books, watching movies and surfing the internet and many many blogs, I decided that I wanted to start my own blog.  I started it on a complete and total whim.  I never would have dreamed in a million years that it could grow and that it would become the success that it has become today.  I feel very blessed and I am incredibly grateful for the many opportunities I have been given because of this blog.  And I am so grateful for a supportive husband who helps support me in this crazy endeavor.  He is awesome.  Anyway...
As any blogger will tell you, I love my blog...occasionally I get frustrated...but mostly, I can't imagine a life without it.  It has become my creative outlet as I have stayed at home with my kids.  I allows me to be home when they get on the bus and when they get off the bus.  It allows me to spend all evening with my family too.  All while giving me a way to share my visions and dreams, my crazy DIY, Craft and Recipe projects with you and work with some amazing other bloggers and brands.  It really is my dream job.
So today I am excited to share my knowledge with you.  My blog knowledge that has not all come easy, some has come through trial and error, other has come through extensive research and some through amazing friends.  But here it is, I am laying it all out for you.  I am sharing the nitty-gritty of How to Start a Blog!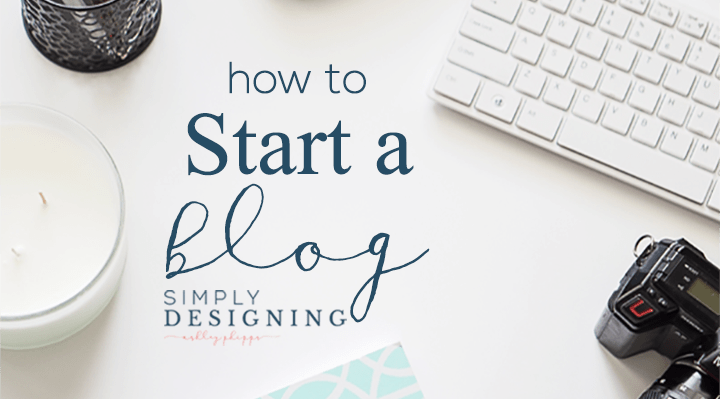 How to Start a Blog
(affiliate links are included in this post for your convenience)
Why?
Determine your purpose.  What type of content will you share on your blog?  Some say that having a very niche blog is the best way to attract high traffic.  However, I personally don't like to only do one thing.  I love to share crafts, DIY projects and recipes.  So I have more of a lifestyle or home blog.  It is perfect for me.  If you really only love baking cookies though...go for it!  Make a site only about cookie recipes or cookie decoration!  I have seen people become very successful at that too!  The key is determining what you love to do, what you want to share and what is sustainable for you to do regularly.
Name
Decide on a name and check to see if the url is available for it.  You also need to determine if you want your own name to be in your blog name or if you want a little more anonymity.  My blog name is officially "Simply Designing with Ashley Phipps" however my url is only "simplydesigning".  If you want this to grow into a business vs being a hobby, you will want to look into local state rules about creating a business in your state.  I would do a quick check to make sure that no one else is already using your name or else you could run into issues later on.
Purchase URL
Purchase your URL.  A ".com" is good but a ".net" is just as good too!  ".Edu" is for educational purposes and ".org" is generally used for non-profits or other organizations.  So choose your domain extension wisely.  I did not purchase my own url when I started my blog, but later I was able to purchase the ".net" for it.  I recommend snagging it right away so you have it no matter what.  There are so many places that you can purchase a domain through but you can actually purchase your domain name from your host (which I will get to in a minute) like BlueHost who is currently offering a FREE domain name with their hosting services right now.  A domain will typically cost between $10-$20 a year so it isn't a huge investment to get started with your own url right away.  My only recommendation is to make it easy to remember and not too long.  www.simplydesigning.net is easy.  www.simplydesigningwithashleyphipps.net is not so easy and it is way too long.  So just keep that in mind.
Choose a Platform
Determine if you want to start a blog on WordPress, Blogger or another platform.  I began my blog on blogger and really have nothing bad to say about it.  It is a great way to begin a blog for free but eventually I outgrew it.  There were site design things I wanted that were simply easier (not impossible, but easier) with a wordpress platform, features that made blogging easier for me and a general level of freedom that led me to eventually make the switch to wordpress.  If you choose to go the wordpress route (which I highly recommend you do) be sure you get a wordpress.ORG account so that you are able to eventually include ads into your blog if you desire.  A wordpress.ORG account allows you to download and use the wordpress platform, but you will need to provide your own hosting.
Hosting
If you decide to use wordpress as the platform for your blog, you will need to choose a company to host your site, a server.  BlueHost is a great hosting company that is optimized for wordpress users.  And right now you can get started for only $3.95 a month!  Seriously!  You honestly can't beat that price for hosting.  If you started your blog on another platform (like blogger) they also offer migration services.  I have used several other companies for hosting, the main thing to look for is good customer service and responsiveness.  You want a host who has your back so be sure you feel comfortable with whoever you choose.  I currently use Orange Geek because I have grown and needed something different.  If you want to go with Orange Geek (I can attest that their customer service is great), simply use code: simpldes to receive a 10% discount on a single hosting purchase (for any new customer) at OrangeGeek.com!  I currently pay $50 a month for this service right now.  That is a big difference between the $3.95 for BlueHost.  So if you are just starting out and budget is tight, I recommend starting with BlueHost.  And then if you ever need to make a move, I recommend Orange Geek.
If you choose to use BlueHost as your host for your blog, here is a quick rundown of how to set it up.  First head over to: http://www.bluehost.com/track/simplydesigning and click "Sign Up Know" or "Get Started Now".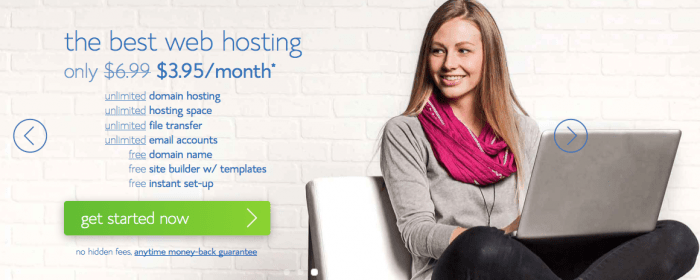 Choosing a plan can feel overwhelming, but I promise it isn't.  When you begin, the starter plan will be just fine!  Eventually, after traffic increases and you have lots of images and posts uploaded, you might need to increase your plan, but for now, the $3.95 starter plan will be perfect!  They also offer a money-back guarantee just in case you needed to ever cancel.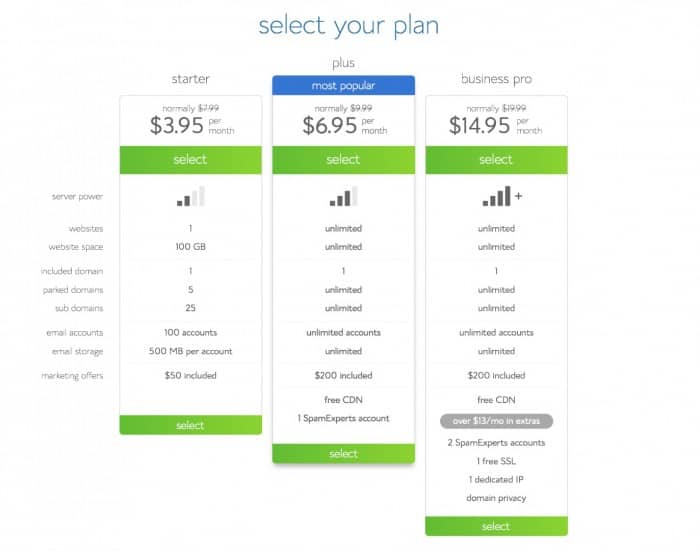 If you already own your own domain name you can enter it in the next screen, however it is so simple to keep your domain and your hosting in the same place, so if you don't own your domain you can purchase it through BlueHost.

Next you will fill our your contact information.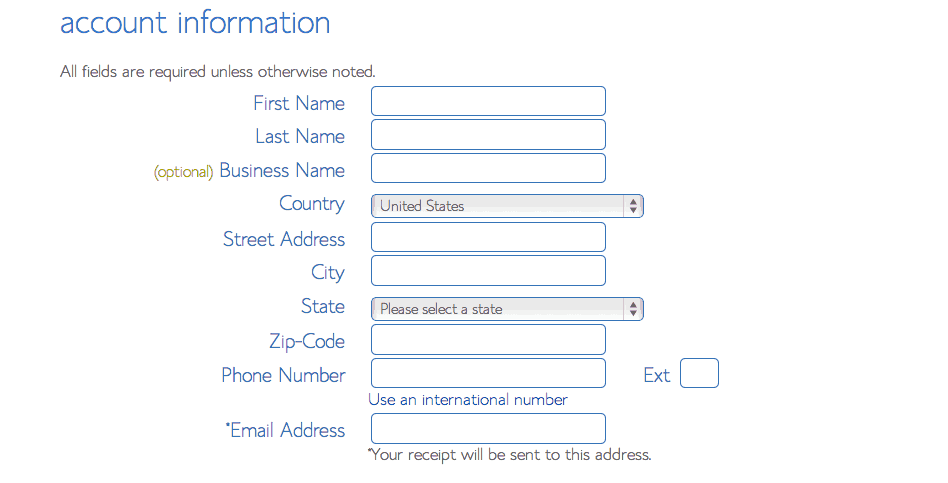 Then you will chose your package information and select a few other details.  I highly recommend paying a little more for Domain Privacy Protection to help protect your family from creepy people.  Also you will want to ensure that your site is backed up and this is a great way to add that protection as well or you can wait and add any of those services later.  (There are also other sources for backing up your blog so you don't have to get it through your server but it is easy to do it that way.)
After that, you will log in and head to your cpanel.  This is where you can then install wordpress with a simple click of the "wordpress" button under the "website builders" category.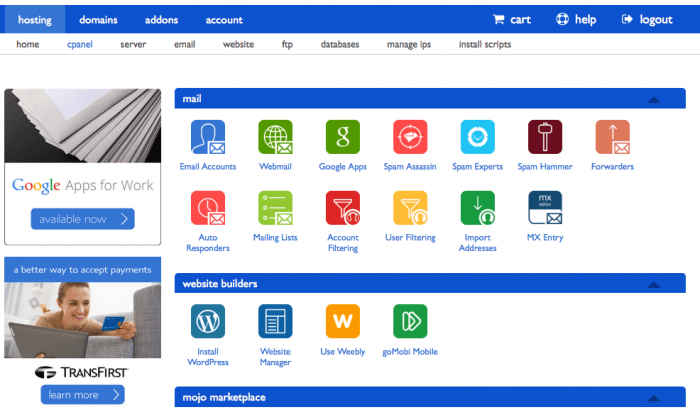 Click on "Start a brand new install".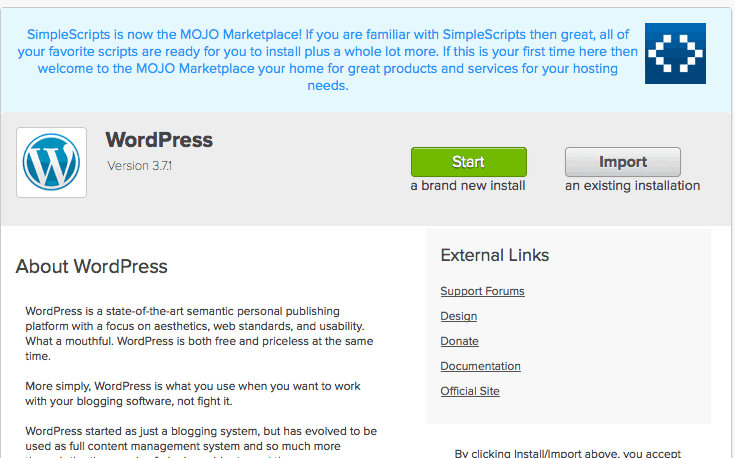 Select your domain.

Choose an admin username (for you to log in with) and a password.  A simple note here, I highly recommend choosing a username that isn't easy to guess (ie not your blog name) and a password that is very very secure.  Then click on "install now."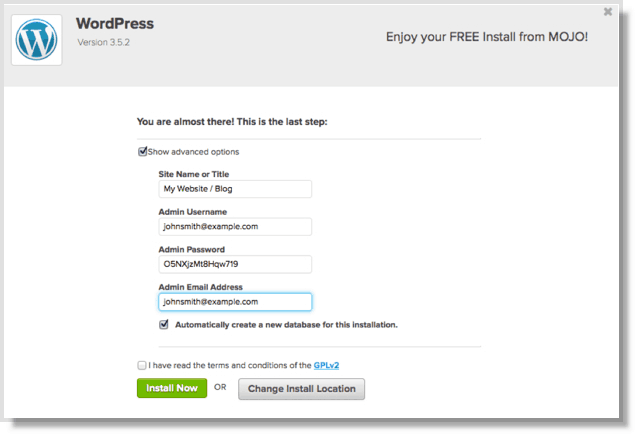 Your site will be installed and then you are ready to move onto the design of your site!  Woot woot!

Design
Unless you have experience designing and coding, the easiest thing to do is to purchase Genesis Framework to help you structure your website.  This gives you the building blocks to begin designing your site and enables you to add things like menus, backgrounds, a header etc to your website.  If you want to make it pretty (and let's be honest, we all do) I suggest also purchasing a child theme which works with your Genesis Framework to beautify your blog.  One great resource of beautiful child themes is Restored 316 Designs.  But StudioPress also has a lot of wonderful options as well for child themes.  In fact I am currently using their Foodie Pro child theme.  A quick google search will find so many more options though, so take the time to find a child theme you love before you make the purchase.  Yes child themes are customizable, but if you aren't good at coding, you might need to hire someone to help you with that.  So I recommend finding a child theme that you will be happy with to start off with, and think about customizing it later.
And after that, you are ready to begin writing your first post!
I hope to share more information with you soon about what you do AFTER you start a blog!  But for now I hope this helps you get started and well o your way to having your dream job or a fun hobby that you've always wanted!
Leave your questions and I will do my best to answer them!
Best of luck sweet friends!
You might also like: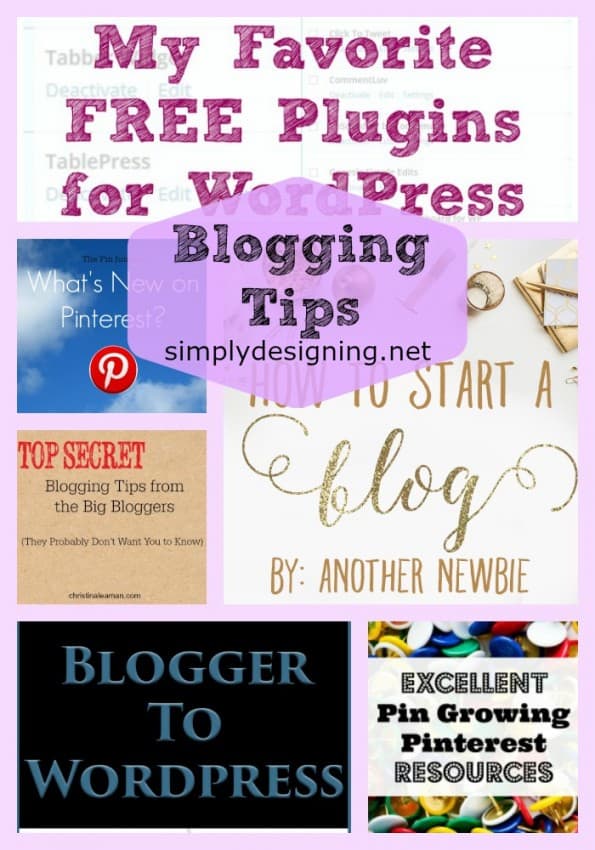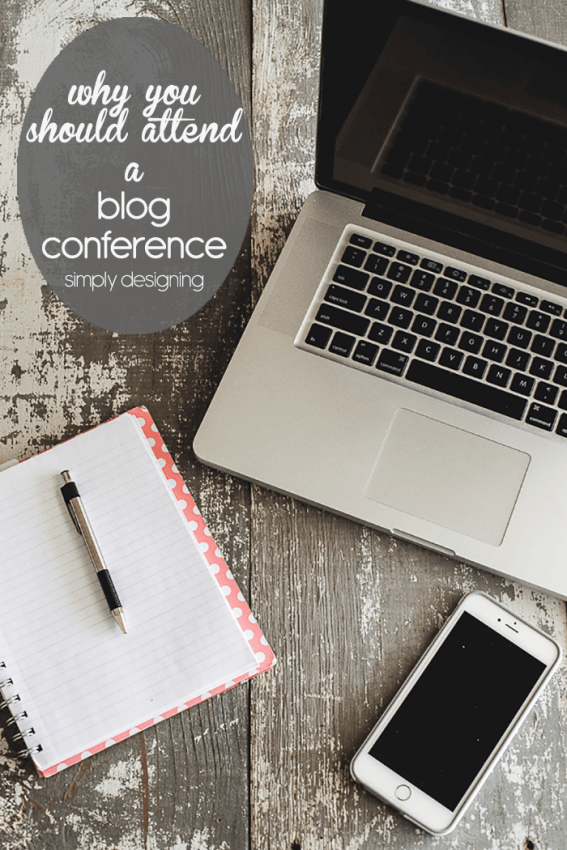 Why you Should Attend a Blog Conference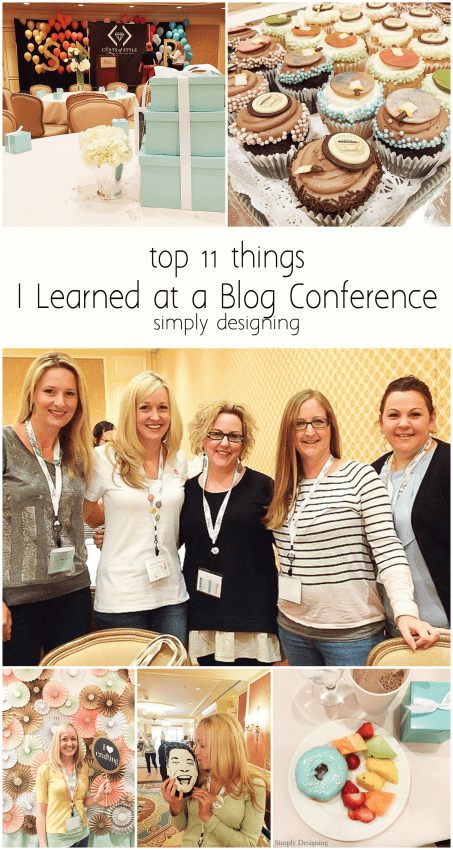 Top 11 Things I Learned at a Blog Conference