Thank you for joining me for Simply Designing's first ever GIVEAWAY!
Two winners will be chosen at random for this giveaway!
The first winner will receive:
(1) flannel burp cloth already made, new, and ready to be used (as shown in the image below, one side has a cute cow jumping over the moon pattern and the other side is a blue and white stripe) and
(1) paper burp cloth template! (Ok. I'll be honest, the template is neither pretty nor fancy (nor perfect) but it is better then having to measure and cut it out yourself!)
The second winner will receive:
(1) paper burp cloth template so you can get started making your own burp cloths right away!
Here are the rules:
1. Post a comment for every item that you do below. Be sure to post your comments on this blog post for entry in this contest!
2. Each comment counts as 1 entry.
3. Include all pertinent information in your comment including what you have done to earn that entry.
4. This giveaway will run until January 29th, 11:59pm PST at which point 2 winners will be chosen at random using random.org.
5. Check back here February 1st to see if you have won! Winners will be posted in a blog post and they will have 3 days to claim their prize by contacting me here with their shipping information. If the winners do not contact me in that time frame, they will forfeit their prize, and another winner will be chosen.
Earn your entries:
1 entry for leaving a comment right here on the giveaway page! So easy to enter!
1 entry by visiting this blog post here, and reading my Burp Cloth Tutorial. After you have read the tutorial, post a comment on the burp cloth tutorial page. Then return to this giveaway page and post one comment below indicating that you posted on the burp cloth tutorial page. (Does that make sense?)
2 entries by becoming a Follower. (See the sidebar and click "follow" to earn these entries.) Submit two comments on this post, both indicating that you became a follower.
2 entries by adding Simply Designing's button to your blog or webpage. Add our button and then submit two comments on this post that include your URL where you added our button to your page.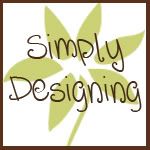 1 entry by joining us January 25th for a "Best Baby Ideas" link party and submitting your link in the party. Return to this giveaway post and post one comment indicating that you joined the party and which idea/link is yours.
1 entry for listing your favorite baby product in the "Best Baby Products List" below. List your idem and again, return to this post and post one comment saying what number your product is on the product list.
Remember to post a separate comment for each entry you earn. If you do all of the above things, you can earn 8 entries!
*If you haven't checked out my burp cloth tutorial, read all about how you can make simple (but the best ever) burp cloths on your own here!*
*Remember, you must be 18 years or older to enter this contest
and it is
open to residents of the United States only.*