I am so excited to be participating in this year's Christmas Wonderful series over at Design Dazzle! There have been some fabulous ideas from some talented ladies and it's not done yet…in fact, I will be guest posting there on Monday, December 9th, 2013! So be sure to stop by and see my post!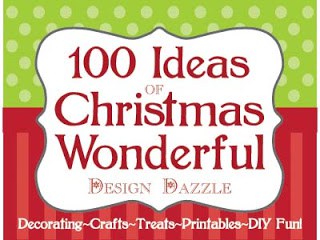 Toni thought it would be great to have one big giant link party to celebrate this magical Christmas season because we know YOU have some awesome ideas to share too! Simply link up your project below, which will show up on all of the 20+ blogs participating in our link party. Feel free to link up new projects as well as any past projects that you want to share. At the end of our link party (December 14th), we're going to feature some of our favorite Christmas ideas!
The following amazing blogs are participating in our Christmas Wonderful link party:
I would love for you to follow me on Facebook, Twitter, Google+, Pintrest and via email.
I participate in the link parties found here.